Top 5 Things That Influence Your Personal Loan Limit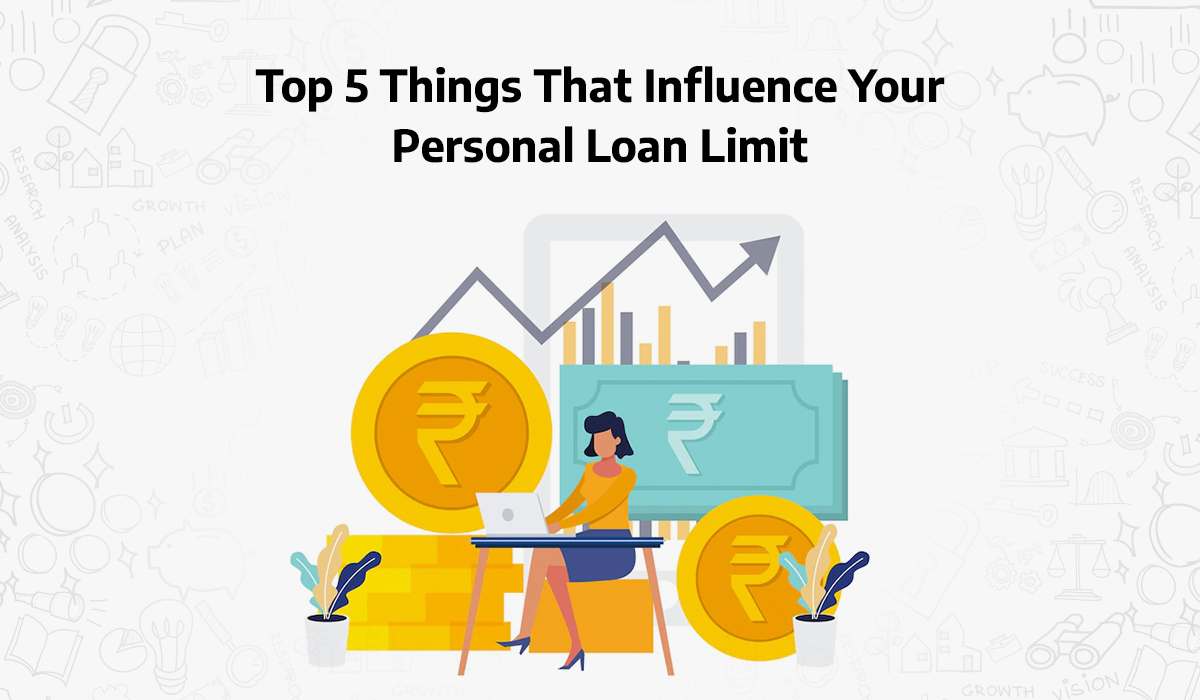 A Personal Loan is for your individual needs. You can use it for any of your needs without revealing it to the lender. It could be buying a new flat, upgrading your smartphone or funding your international trip with your friends. Be clear about the amount you want through the Personal Loan to make it easier for you to apply.
The complete Personal Loan process at Clix Capital is online, right from application to sanction & disbursals. So, you don't have to visit our office or endlessly enquire from customer care physically.
If you are looking to apply for a Personal Loan, you must know the eligibility criteria since approval will depend on whether the requirements are met. You might also like to know the factors that affect a personal loan limit.
So, here are the top five factors that should be considered while applying for a Personal Loan.
Top 5 Things That Influence Your Personal Loan Limit
Monthly Income
Nothing runs on empty. Your monthly income sets the limit for the Personal Loan approved for you. In other words, the amount of Personal Loans approved depends on the individual's income. It also depends on how stable and regular the income is when you apply for a Personal Loan.
Credit Score
When applying for a Personal Loan, assurance is required that the applicant is diligent in repaying their loans. The credit score of an individual often determines this.
Clix Capital uses Experian credit score for Personal Loan eligibility requirements.
The Experian credit score is, perhaps, the most crucial numeral to get a loan. It is a summary of the Personal Loan applicant's creditworthiness. It plays a role in the individual's eligibility for a Personal Loan as it fixes an upper limit to the applicant's Personal Loan amount.
The Experian score could be any digit numeral from 0 to 999. Clix Capital settles for a minimum Experian score of 630 when considering Personal Loan applications. The higher your Experian score is, the more chances you have to lift the personal limit set by the lender. 
Applicant's Age
Age is also a deciding factor for a Personal Loan and the loan amount. The applicant's productive years are taken between 21 years and 58 years for loan disbursal. Clix Capital also undertakes the applicant's age while deciding on the Personal Loan amount.
The Personal Loan calculator helps you to arrive at these figures. The younger the individual, the higher the Personal Loan amount. The applicant should, in addition, be bringing home a regular and stable income.
Salaried applicants get preference, but there is age relaxation for the self-employed. This is because such people do not retire and usually continue working and earning an income.
The upper age for the self-employed applying for a Personal Loan is 65 years. You can find all Personal Loans details online on Clix Capital's website.
Also Read:10 Different Reasons for Which You May Use a Personal Loan in 2023
Work Experience
Clix Capital calculates the Personal Loan limit based on the applicant's years of work experience. More work experience spells better chances of qualifying for a Personal Loan.
Also, more work experience fetches a higher Personal Loan limit, preferably in the same job. However, the minimum experience required to apply for a loan varies for different job profiles and loan amounts applied for.
Existing Liabilities
When applying for a Personal Loan, the applicant should provide details of his current liabilities. These include details about whether the applicant already has other loans to repay. The applicant should also inform the loan provider about the current loan tenure.
Another thing that Clix Capital will look at is the existing credit cards and the credit limit. EMI payments on existing loans and servicing credit card(s) is a liability that has a limiting effect on the approved Personal Loan amount. A single EMI default on a loan or a credit card will have a cascading effect that would affect both the lender and the Personal Loan beneficiary.You could use the Personal Loan eligibility calculator to get an idea of EMIs so that you don't miss any payments.
Hiding liabilities when applying for a loan is not advisable. Knowing the repayment capacity of an applicant beforehand is essential for the financial institution.
Conclusion
Getting Personal Loans approved is easy. The first step is researching, assessing and finding a trusted financial partner like Clix Capital. Then, you need to keep your identity documents like your Aadhar Card, PAN Card and Driving License while applying. You'll also need income, address proof, and a good credit score.