Medical Equipment Finance & India's Healthy Future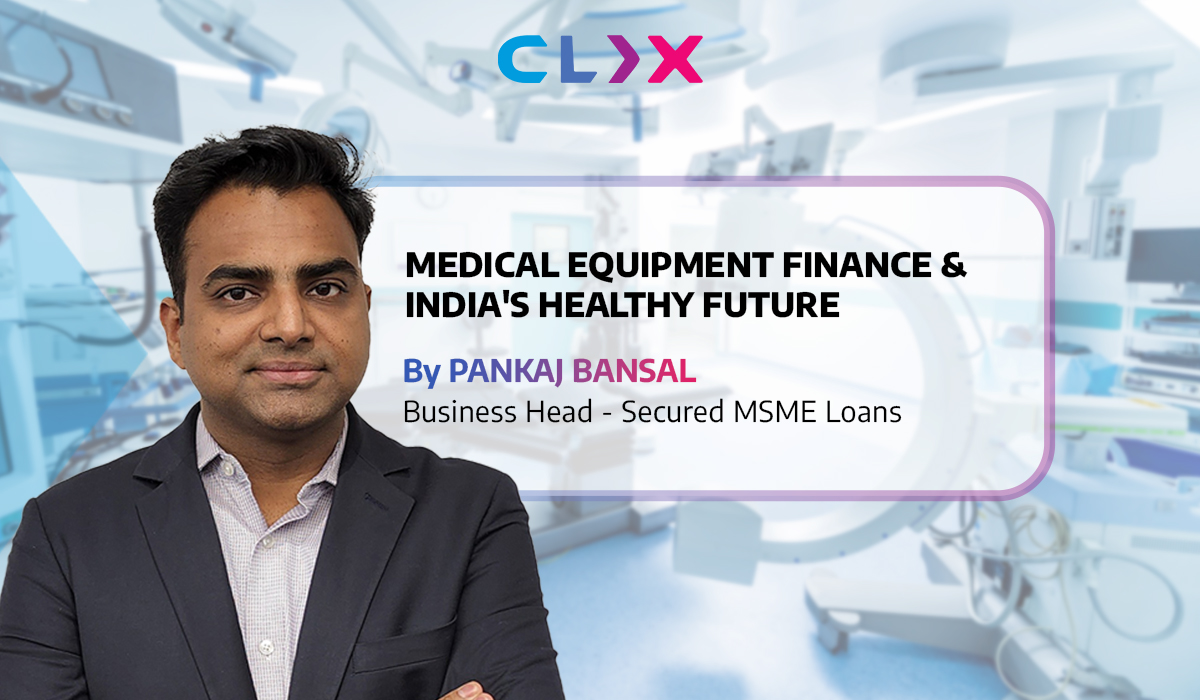 Better healthcare infrastructure in a country is crucial for the overall well-being of its people. India as a country, even amidst several challenges serves multitude of opportunities for the healthcare sector to bloom and become a catalyst in the growth of the country. Clix is committed to be a part of this growth journey.
What is the current state of Healthcare sector in India?
According to a recent survey by the Washington-based think tank Pew Research Centre, India is on track to surpass China as the world's most populous nation in 2023, taking the title away from it since 1950. Despite its economic progress and advancements in various fields, India still faces numerous challenges when it comes to providing adequate healthcare to its citizens.
Even after allocation of more than Rs. 904 billion by the Ministry of Health and Family Welfare (MoHFW) in Union Budget 2022-23, India accounts to only 0.5(approx.) million Government hospital beds against a population of a thousand, with an estimated shortfall of 2.4(approx.) million beds.
As per the National Medical Commission, there were 1.3 million allopathic doctors in India as on June 2022, with another 0.56 million AYUSH doctors catering to our huge population. Assuming 80% availability, there is one allopathic doctor per 1,194 people in our country – lower than WHO norms of 1:1,000. The shortage of trained nurses is even more serious, with a nurse-to-population ratio of 1:670 against the WHO norm of 1:300.
As on Dec'22, there were an estimated 99 thousand MBBS seats available annually for aspiring students, with 47% seats spread across 295 private medical colleges and the rest in 355 Government institutions. This paves the way for decent annual augmentation of number of healthcare practitioners in our country.
Lifestyle diseases are one of the biggest risks for Indians today. Largely called the "diabetes capital of the world", our country has seen an increase in chances of heart attack, brain stroke and pulmonary diseases by 53%, 20% and 38% respectively post-Covid.
An estimate of more than 65% of out of pocket household expenses are directed towards healthcare – highlighting the severe lack of penetration of medical insurances to the grass-root level.
Reasons why Healthcare is important?
Improved life expectancy: Better healthcare infra can significantly improve the life expectancy of individuals in India. According to WHO, the life expectancy at birth in India is 69 years, which is lower than many other countries in the World. It is estimated that around 12% of the population (or 188 million) will be senior citizens by 2030. This makes availability of quality healthcare even more imperative in the near future itself. With better healthcare, people can have access to preventive measures, timely diagnosis, and treatment of diseases, ultimately leading to a longer and healthier life.
Economic growth: Better healthcare can speed up the economic growth of India. Poor health leads to reduced productivity and increased absenteeism, resulting in lower economic growth. Furthermore, healthcare is also an essential sector that contributes significantly to the economy by creating jobs and stimulating economic activity. Currently, over 5 million people are directly employed in this sector.
Reduced poverty and inequality: Poor health and illnesses can push people into poverty due to the high cost of healthcare and loss of income. Better healthcare can help prevent and treat illnesses, reducing healthcare costs and keeping people healthy. It can also help address healthcare disparities between different sections of the society, providing equal access to healthcare facilities and services.
Preparedness for future health emergencies: The COVID-19 pandemic has exposed the weaknesses in healthcare system across the World. With better healthcare facilities, infrastructure and trained healthcare professionals, India can be better prepared to handle future health emergencies, ensuring the safety and well-being of its citizens.
To make this happen, the public and private sector must work together to invest in healthcare infrastructure, facilities, and training of healthcare professionals to ensure better healthcare for all citizens of India.
Healthcare Equipment Finance by Clix Capital
Clix Capital is a leading financial services company in India with razor sharp focus on healthcare equipment finance. The company understands the fundamental requirements of this sector and caters to all types of healthcare related setups pan-India through its dedicated team.
Clix Capital offers end to end financing for both Doctors and non-Healthcare professionals alike. The entire range of medical equipment is financed through tailor-made structured Loan and Leasing solutions to suit clients' cash flow requirements.
The Company is fully committed towards this sector and is proud to collaborate with Bank of Baroda for an industry first 'truly digital' co-lending partnership in healthcare sector – jointly catering to the needs of MSME set-ups.
In conclusion, improving healthcare in India is essential, and healthcare equipment finance by Clix Capital can play a crucial role in achieving this goal. With the right healthcare equipment, healthcare providers can diagnose and treat patients better, leading to better health outcomes for the population. It is time for healthcare providers to invest in the right equipment, and Clix Capital can help them achieve this.