Business Loan in Bangalore
Widely referred to as the 'Silicon Valley of India', Bengaluru is the hub for India's growing startups and for achieving excellence in the IT sector. If it's big tech: it's Bangalore! And it's a great place for entrepreneurs looking to grow their businesses. Due to the same, businesses are prospering in the city. However, one cannot overlook the fact that sometimes, businesses need financial infusions for their growth.
Funds are needed to hire more people, further operations, expand into new areas, and buy or repair new machinery.
Business is dynamic, and so is financial growth, if done right!
Understanding the importance of running businesses smoothly, Clix Capital offers unsecured Business Loans in Bangalore up to ₹50 Lakhs to businesses with minimal documentation, competitive interest rates and a safe application process.
At Clix Capital, we provide quick and instant Business Loans so your business can run smoothly without any restrictions.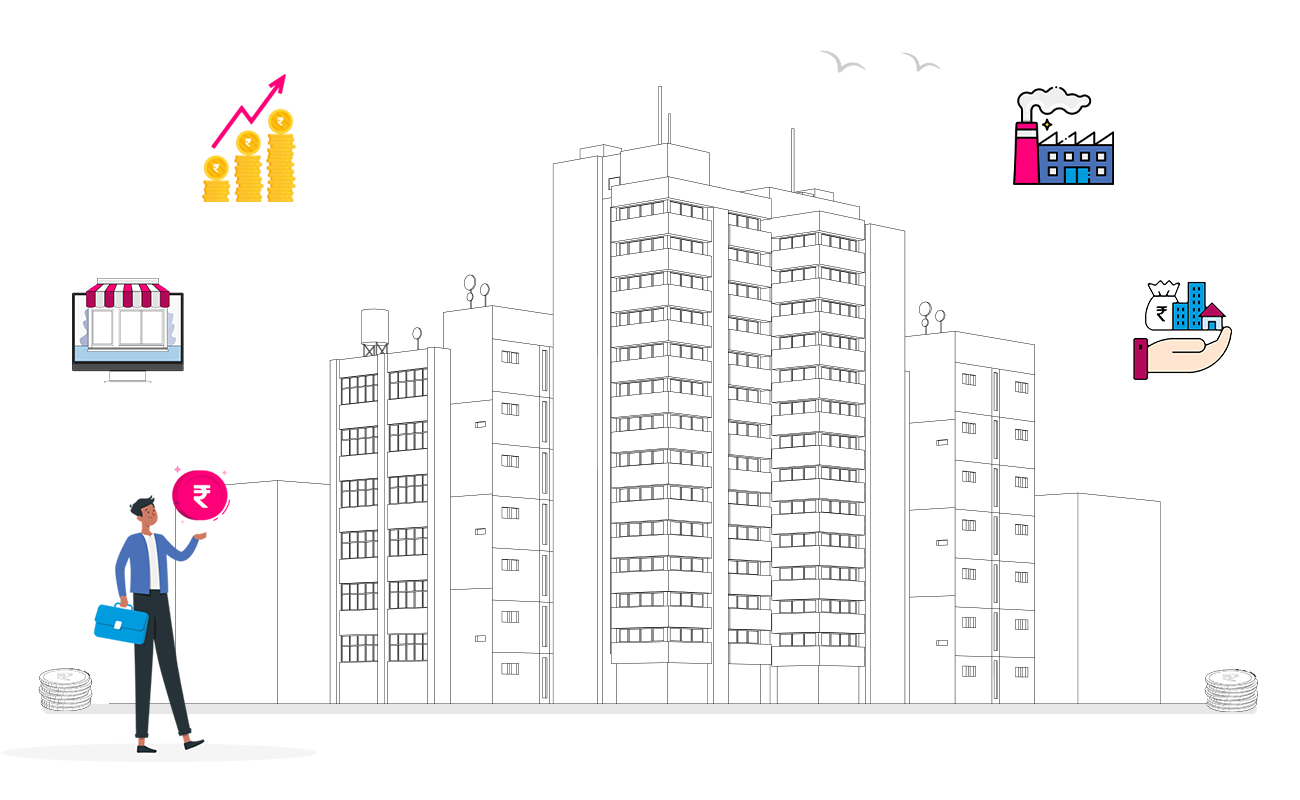 Features and Benefits of taking a Business Loan in Bangalore:

Higher loan disbursal amounts
Reach a new high for your business with our high loan amounts! Get up to ₹50 lakhs Business Loans in Bangalore with us.

Faster and smoother disbursal
Life may not always be smooth sailing, but loan disbursals can. Once you are eligible and complete your documentation process, we will disburse your loan amount instantaneously!

Collateral-free loans
Business Loans without collateral are now within your grasp with Clix Capital. We are your partners in your entrepreneurial journey!
Competitive interest rates
We want you to focus on your operations to achieve success. Get competitive interest rates which are budget-friendly and not a burden on your finances.

Extended loan tenure
Business goals move at their own pace! Our flexible tenures keep pace with your goals. Repay the loan in 12-36 months, and if you are a self-employed professional, we can extend the tenure to 48 months.

Quick approvals
Entrepreneurs work tirelessly, and without a break. We support them fully with quick loan approvals.
Is My Business Eligible for a Loan?
| | |
| --- | --- |
| What should be my age to get the Loan? | Between 21-65 years. |
| How old should my business be to avail the loan? | It should be at least 3 years old! |
| Do I need a credit score as well? | Yes. A CMR Score of 6 and a CIBIL Score of 700 would be enough! |
| What should be my Business Turnover? | It should be a minimum of Rs. 1 Crore |
What will the Interest Rates look like for a Business Loan from Clix Capital in Bangalore?
Interest rates on Business Loans vary from business to business. You need to have an annual business turnover of Rs. 1 crore to be eligible for the loan. Also, the absence of faulty loan repayments increases your chances of availing the loan at an interest rate which will be more convenient for you.
What documents do I need to apply for a Business Loan in Bangalore?
When your KYC is updated with your Aadhaar and PAN, you can get them verified online within a matter of minutes. After this:
Bank statement
A bank statement covering the last 6 months will do the job!
Business registration proof
This will tell us about your business's requirements for you to avail the Loan.
Proprietor(s) PAN Card Copy
A copy of the proprietor or owner's PAN Card is needed for verification purposes.
Proprietor(s) Aadhaar Card Copy
A copy of the proprietor or owner's PAN Card is needed for verification purposes.
A Partnership Deed Copy, if applicable, should be attached for verification as well.
A copy of your Company's PAN Card will also be required.
How Do I Apply For A Business Loan in Bangalore

Fill out
the application form.
It takes only 3
minutes!

Have a quick chat with our representative to learn about your Business Loan

Sit back and
relax! You are on
your way to secure a
business loan.
Frequently Asked Questions
What different types of business loans are available?
Business loans are available for expansion and acquisitions, staffing, equipment, working capital, hiring, salaries, and MAAs.
How much can my company borrow under a business loan?
If you meet our eligibility criteria, you can get a business loan up to ₹50 lakhs.
How do I choose a business loan in Bangalore?
Before applying for a business loan in Bangalore, you should understand the area for which it is needed and also plan your finances to repay the loan amount.
What if my company can't make my repayments on time?
If that is the case, you can then extend the loan tenure with us. The interest rates for the same will be revised.
What documents should my company submit when applying for a business loan in Bangalore?
We require the following documents:
Completed Application Form
Address proof (Aadhar Card, Passport, Voter ID, Driving License, Last 2 months' Utility Bills)
Identity proof (Aadhar Card, PAN Card, Government ID)
Financial documents (PAN Card of Firm, Company or Applicant, GSTIN, 6-month bank statement, Copy of the most recent ITR form along with computation of income, audited balance sheet and profit & loss account for the previous 2 years, Proof of continuity of business of 3 years)
Proof of ownership
Current additional financial obligations
Click here and get ready for success
Apply now for simple, fast, and accessible loans for business from Clix.