Business Loan in Ahmedabad
The Textile Hub of India, Ahmedabad, is famous for its fine world-class textiles, trade, and commerce. The city is the industrial centre of Western India, and home to countless small, medium, and large businesses.
Business owners can take Business Loans for buying new machinery, making up for working capital, and meeting some other business-related expenditure. Clix Capital offers Business Loans in Ahmedabad to help businesses meet their vision and overcome any unavoidable financial crunches. Our Business Loans are collateral- free, require basic documentation from your end, and get approval based on easy eligibility criteria. We also let you choose your repayment tenure and ensure you get the finance you need at the most competitive interest rates.
We understand the pressures faced by businesses and try to disburse your Business Loans as quickly as we can after you meet our eligibility criteria for getting a business loan.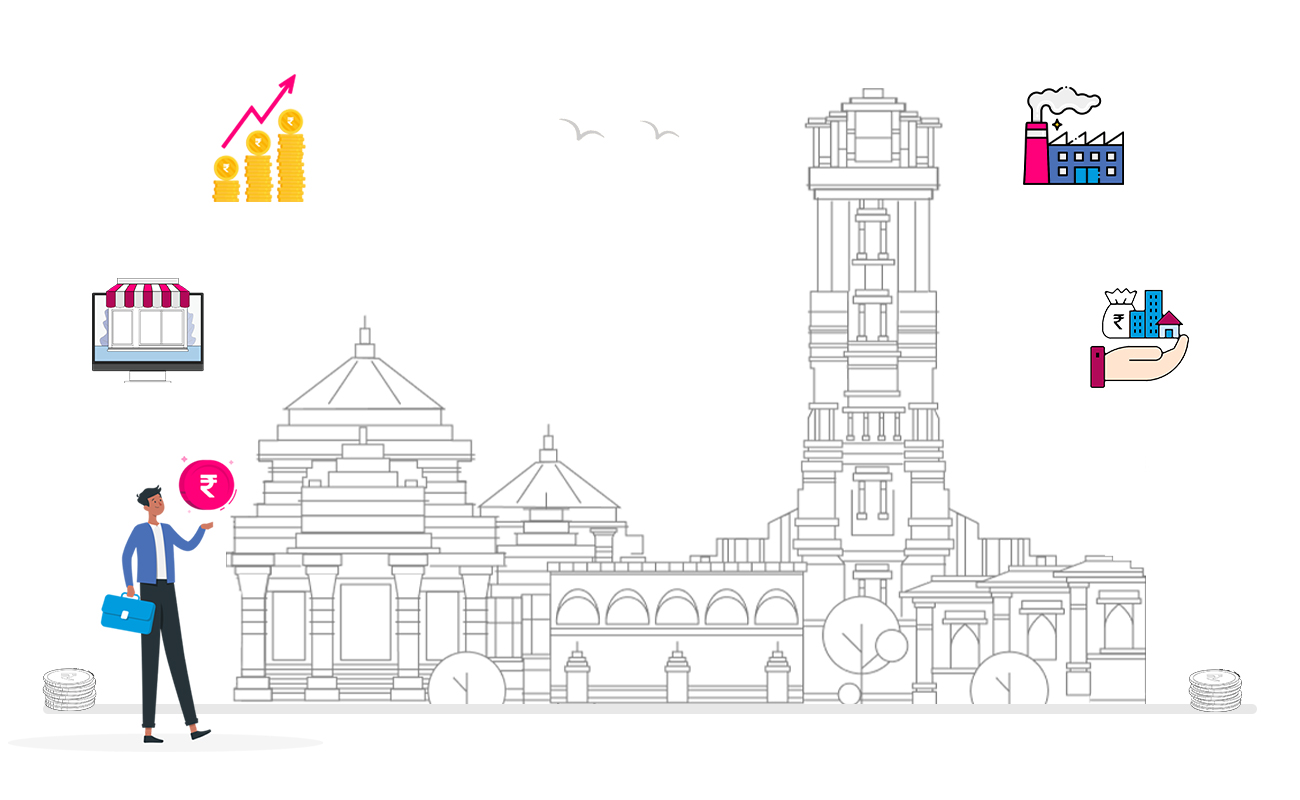 Features and Benefits of Business Loans in Ahmedabad

Higher loan disbursal amounts
At Clix Capital, you can get Business Loans of up to Rs. 50 lakhs in Ahmedabad once you meet our eligibility criteria.

Faster and smooth disbursal
Drama looks good on T.V but not for loans. That is why we disburse the loan amount quickly and smoothly so that you are at ease.
Competitive interest rates
Our interest rates are competitive and do not hurt your pocket. They are friendly, just like your neighbour's dog.

Quick approvals
Instagram quick recipes might take an hour to cook, but our loans are approved quickly once you meet the eligibility criteria and complete the documentation with us.
Is My Business Eligible for a Loan?
| | |
| --- | --- |
| What should be my Age to get the Loan? | Between 21-65 years. |
| How old should my business be to avail the loan? | It should be at least 3 years old! |
| Do I need a credit score as well? | Yes. A CMR Score of 6 and a CIBIL Score of 700 would be enough! |
| What should be my Business Turnover? | It should be a minimum of Rs. 1 Crore |
What will the Interest Rates Look Like for a Business Loan in Ahmedabad?
Interest Rates on our loans vary from business to business. Rest assured, we'll offer you considerate and competitive rates that will be well suited to your business!
What All Documents do I Need to Apply for a Business Loan in Ahmedabad?
At Clix Capital, we ask for nothing less and nothing more! All we need is:
Bank statement
A bank statement covering the last 6 months will do the job!
Business registration proof
This will tell us about when your business was established, your day one.
Proprietor(s) PAN Card Copy
A copy of the proprietor or owner's PAN Card is needed for verification purposes.
Proprietor(s) Aadhaar Card Copy
A copy of an Aadhar Card will do.
A Partnership Deed Copy, if applicable, should be attached for verification as well.
A copy of your Company's PAN Card will also be required.
How Do I Apply For A Business Loan in Ahmedabad

Fill out
the application form.
It takes only 3
minutes!

Have a quick chat with our representative to learn about your Business Loan

Sit back and
relax! You are on
your way to secure a
business loan.
How Can I Apply for Business Loans in Ahmedabad?
Select 'Business Loan' on our home page

Click on 'Apply Now'.

Enter your phone number

Submit the OTP you'll receive

You'll get a call from the Clix Capital's representative for proceedings.
FAQs
How does a Business Loan affect taxes?
Business Loans do not have any affect on your taxes. The Income Tax Act of 1961 states that any borrowed money in a business does not qualify as income from a business, leaving no impact on taxes.
How to get a Business Loan approved for an online business?
At Clix Capital, you must fill out our online application form, check your eligibility, and upload the necessary documents. Your loan will be approved in no time if everything is kosher.
Does Business Loan affect my CIBIL score?
Yes. If you make your repayments on time without fault: your CIBIL score will improve. If not, it will be impacted negatively.
What is the minimum CIBIL score to get a Business Loan?
The minimum CIBIL score to get a Business Loan is 700. However, a CMR score of up to 6 is also required.
Will a Business Loan affect my credit?
No, it won't. Your business and personal credit scores are different.
Click here and get ready for success
Apply now for simple, fast, and accessible loans for business from Clix.