The capital of the nation Delhi is popular for its culture and historical monuments like the Red Fort, Qutub Minar, and much more. Delhi has seen a lot of historical events and is admired for its liveliness. Not only this, the city houses a lot of small and large businesses as well.
Businesses experience ups and downs, that's part of the thrill. The downs can have many ramifications, while the ups are always welcome. Financial duress can come in many shapes and forms, money may be needed to grow, upgrade, consolidate, upscale, to name a few things. Businesses need additional funds, and that's quite alright. What they don't need is unnecessarily long-drawn-out applications, and time is of the essence, it's money in itself.
Understanding the same, Clix Capital offers Business Loan in Delhi with minimal documentation. We only require necessary documents and provide businesses finance at competitive interest rates. We disburse loan amounts quickly and smoothly up to Rs. 50 lakhs with a flexible repayment tenure, sans collateral from your end.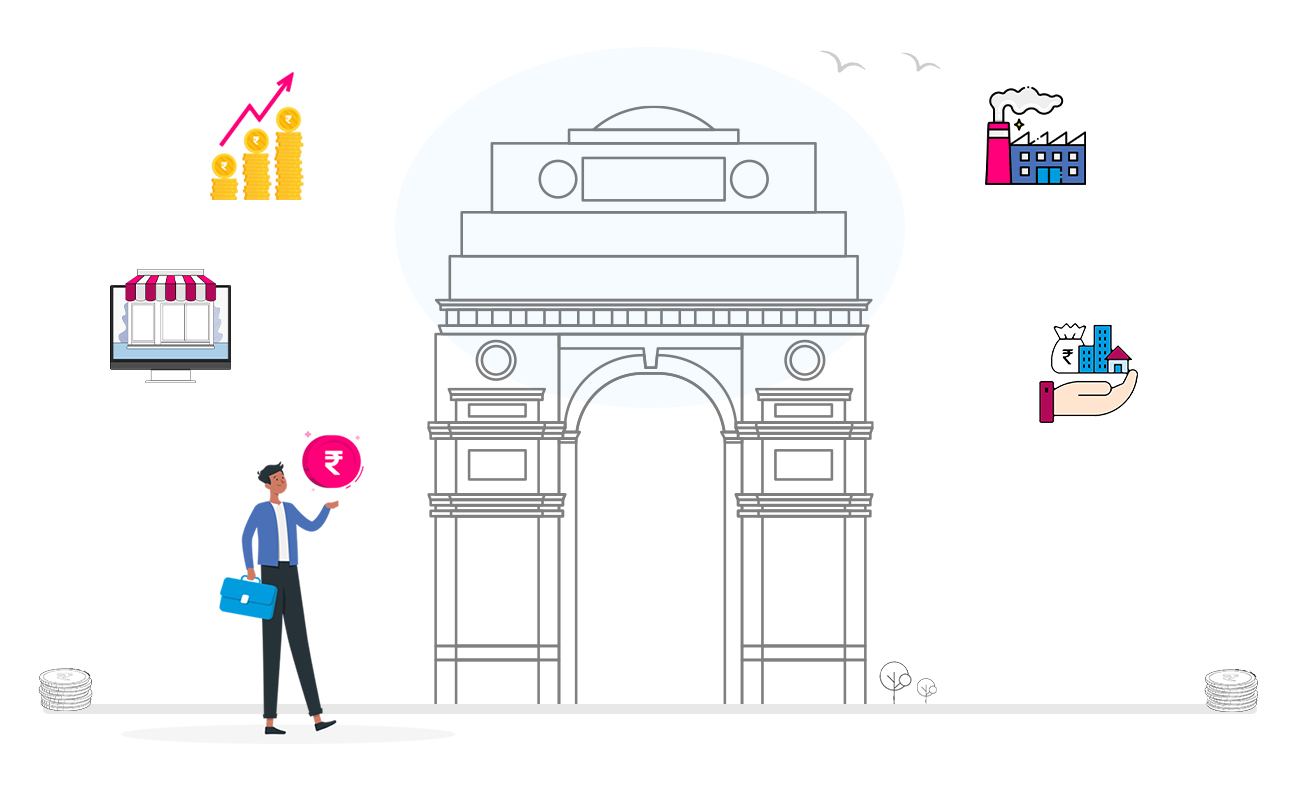 Features and Benefits of Business Loan in Delhi

Higher loan disbursal amounts
With Clix Capital, you can get a loan amount of up to Rs. 50 lakhs only if you meet our eligibility criteria.

Faster and smoother disbursal
We do not let you wait and disburse your loan amount as fastly and smoothly as we can.

Collateral-free loans
No collateral, no problem. Get loans free of collateral with Clix Capital.
Competitive interest rates
We have kept everything in your 'interest'. Even our interest rates compete with the market standards!

Extended loan tenure
Holiday extension denied? At least your loan tenure extension can be approved with Clix Capital.

Quick approvals
The Budget takes a lot of time to get approved, but we will quickly approve your business loans to let you run your business smoothly.
Is My Business Eligible for a Loan?
What should be my Age to get the Loan?

Between 21-65 years.

How old should my business be to avail the loan?

It should be at least 3 years old!

Do I need a credit score as well?

Yes. A CMR Score of up to 6 and a CIBIL Score of 700 would be enough!

What should be my Business Turnover?

It should be a minimum of Rs. 1 Crore

 
What will the Interest Rates look like for a Business Loan from Clix Capital in Delhi?
For business loans in Delhi, interest rates are different for every business. An annual turnover of Rs. 1 crore to qualify for the loan. Also, if you pay off your loan on time, you are more likely to get a loan with a lower interest rate.
What documents do I need to apply for a Business Loan in Delhi?
When your KYC is updated with your Aadhaar and PAN, they'll get verified online within a matter of minutes. After that:
Bank statement
A bank statement covering the last 6 months will do the job!
Business registration proof
This will tell us about your business's requirements for you to avail the Loan.
Proprietor(s) PAN Card Copy
A copy of the proprietor or owner's PAN Card is needed for verification purposes.
Proprietor(s) Aadhaar Card Copy
A copy of an Aadhaar Card will do.
If applicable, the partnership deed copy should be attached for verification as well.
A copy of your Company's PAN Card will also be required.
How Do I Apply For A Business Loan in Delhi

Fill out
the application form.
It takes only 3
minutes!

Have a quick chat with our representative to learn about your Business Loan

Sit back and
relax! You are on
your way to secure a
business loan.
Frequently Asked Questions
What is the minimum turnover requirement to get a business loan in Delhi?
The minimum turnover should be Rs. 1 crore.
Who can apply for a Business loan from Clix Capital in Delhi/NCR?
A proprietorship, private limited company, closely held non-listed company, partnership firm involved in the business of manufacturing, trading, or services can apply for a Business Loan in Delhi/NCR.
What is the maximum tenure for business loans available in Delhi/NCR?
The tenure for Business in Delhi is of 48 months. You can decide a suitable repayment period for yourself.
What are the risks associated with business loans in Delhi?
The Business Loans given by us in Delhi are safe, they won't bite. However, if you take a loan your business won't be able to pay off, the loan can bite hard. With Clix Capital, you can tailor the repayment schedule, and extend it if required.
Are there any charges other than the interest rate I have to pay to avail a business loan in Delhi?
There are no added charges. We are transparent in providing Business Loans to you.
Click here and get ready for success
Apply now for simple, fast, and accessible loans for business from Clix.