Business Loan in Hyderabad
The resplendent City of Pearls, Hyderabad, has always been at the centre of trade, commerce, and gastronomical wonder. Today, the city is home to major multinationals, international business ventures, and an extremely successful business community. The city is now home to many professionals, entrepreneurs, and of course: tremendous opportunities. More businesses are looking to venture into or begin in Hyderabad, and business owners are ready to capitalise. For doing this, some businesses may need additional funds, and we're here for that.
Businesses face a lot of ups and downs, and while the ups are sweet, the downs can hurt in a lot of ways. The real challenge in business begins when there's a shortage of funds, be it to expand market share, pay employees' salaries or make up for working capital: a fund crunch is not pretty for anybody. Business owners looking to apply for a Business Loan often end up finding nothing but endless documentation and tedious processes which can be major deterrents.
We offer Business Loans in Hyderabad to help businesses with the funds they need: when they need them. The documentation is minimal, the application process simple, and businesses can avail amounts up to Rs.50 lakhs with budget friendly interest rates and ample room for repayment.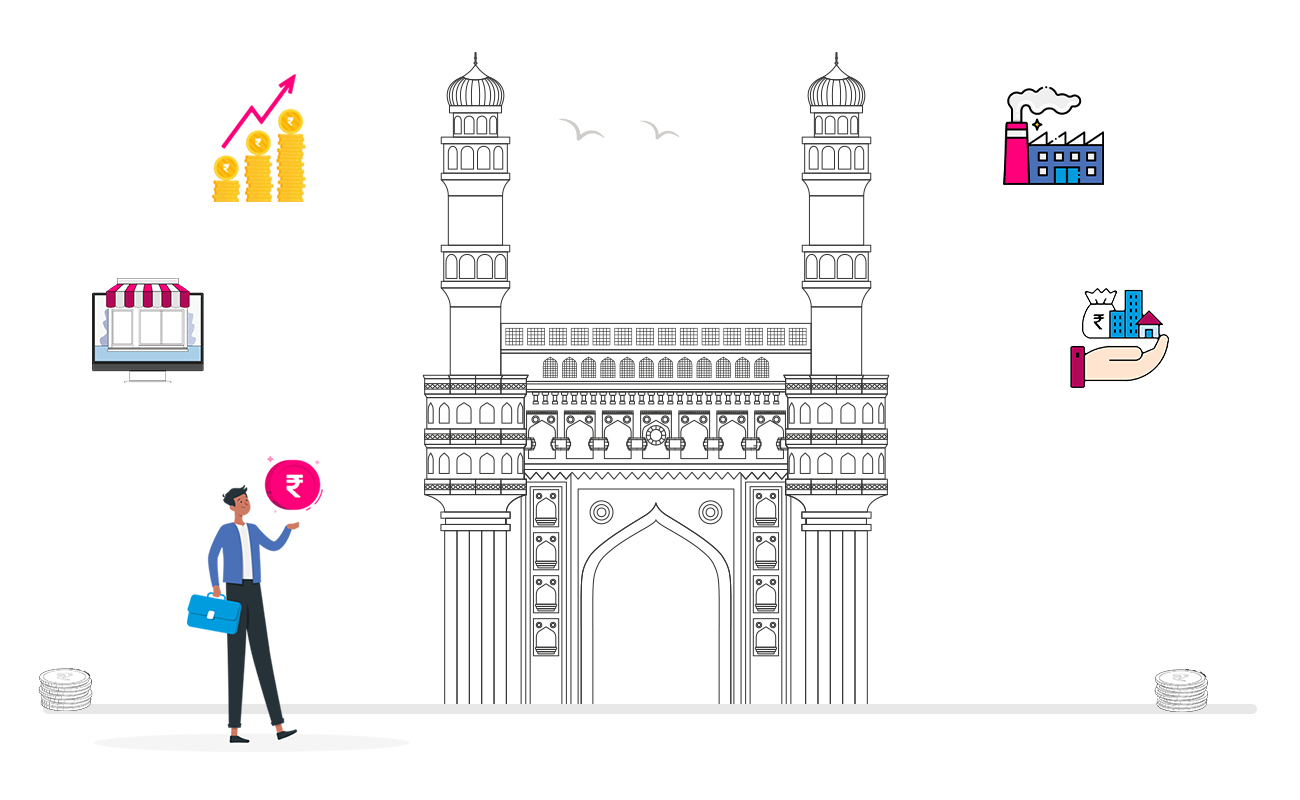 Features and Benefits of Business Loan in Hyderabad

Higher loan disbursal amounts
You can get up to Rs.50 lakhs as a loan amount. We understand it's business after all, and the stakes are higher.

Faster and smoother disbursal
Fast and Furious is our favourite franchise of all time, and we feel the Need for Speed when it comes to disbursing your business loan: so, you can run your ship with ease.
Competitive interest rates
We have kept everything in your 'interest', including our interest rates on Business Loans.

Quick approvals
72 hours sound like a lot? Doesn't, right? We agree and try our utmost to approve your business loan application in under 3 days' time.
Is My Business Eligible for a Loan?
What should be my Age to get the Loan?

Between 21-65 years.

How old should my business be to avail the loan?

It should be at least 3 years old!

Do I need a credit score as well?

Yes. A CMR Score of up to 6 and a CIBIL Score of 700 would be enough!

What should be my Business Turnover?

It should be a minimum of Rs. 1 Crore

 
What will the Interest Rates Look Like for a Business Loan in Hyderabad?
Interest rates will vary for Business Loans in Hyderabad. Your business must make at least Rs. 1 crore in annual revenue to be eligible for the loan. Additionally, your chances of obtaining a loan with a more affordable interest rate will increase if you have a history of timely loan repayments and a good credit score.
What Documents do I Need to Apply for a Business Loan in Hyderabad?
We ask for nothing less and nothing more. You need to submit the following documents for Business Loan applications in Hyderabad.
Bank statement
A bank statement covering the last 6 months will do the job!
Business registration proof
We would love to know about you and your business journey.
Proprietor(s) PAN Card Copy
A copy of the proprietor or owner's PAN Card is needed for verification purposes.
Proprietor(s) Aadhaar Card Copy
A copy of an Aadhaar Card will do.
If applicable, the partnership deed copy should be attached for verification as well.
A copy of your Company's PAN Card will also be required.
How Do I Apply For A Business Loan in Hyderabad

Fill out
the application form.
It takes only 3
minutes!

Have a quick chat with our representative to learn about your Business Loan

Sit back and
relax! You are on
your way to secure a
business loan.
FAQs
How can I get an instant loan for business?
We provide Business Loans instantly. As soon as you apply on our Business Loan page, our experts are notified about your interest, and they contact you soon enough to help you avail the loan within a few days.
Can I get a Business Loan without any income?
No. You need to be running a business for at least three years with an annual turnover of Rs. 1 crore to qualify for a Business Loan. So, you need income on your side for a Business Loan.
What is the minimum CIBIL score for getting a Business Loan?
A CIBIL score of 700 or above and a CMR score of up to 6 makes you eligible to get a Business Loan with us.
What is the maximum amount that one can avail from a Business Loan?
You can get a Business Loan of up to Rs. 50 lakhs from us.
Can I borrow a loan amount larger than the prescribed limit?
Yes. When you have a good repayment history and meet all our criteria, you can get a loan above the prescribed limit in some cases.
Click here and get ready for success
Apply now for simple, fast, and accessible loans for business from Clix.