The financial capital of India, home to big dreams, not just stars, timeless art-deco, vibrant culture, unmatched history, you know it's Mumbai! The city of dreams is the place to be if you're looking for opportunities to make it big! However, these things can take up a lot of money: especially if you're a business owner.
The city of Mumbai never sleeps, and businesses are sprouting up in the hundreds each day. Running a business in the financial capital of India is expensive, fraught with uncertainty and intense competition. If you can make it but not keep it: what's the point? Businesses in Mumbai are more than likely to come under some financial duress at some stage in their lives, and the sooner these things are dealt with: the better. In a breakneck city like Mumbai, speed is of the essence when it comes to procuring additional finances for your business.
Like businesses in the city, we live in the fast lane as well, and provide Business Loans in Mumbai through quick, easy and instant processes which require minimal documentation. Just like the talent in the city: our interest rates are super-competitive and vary from business to business.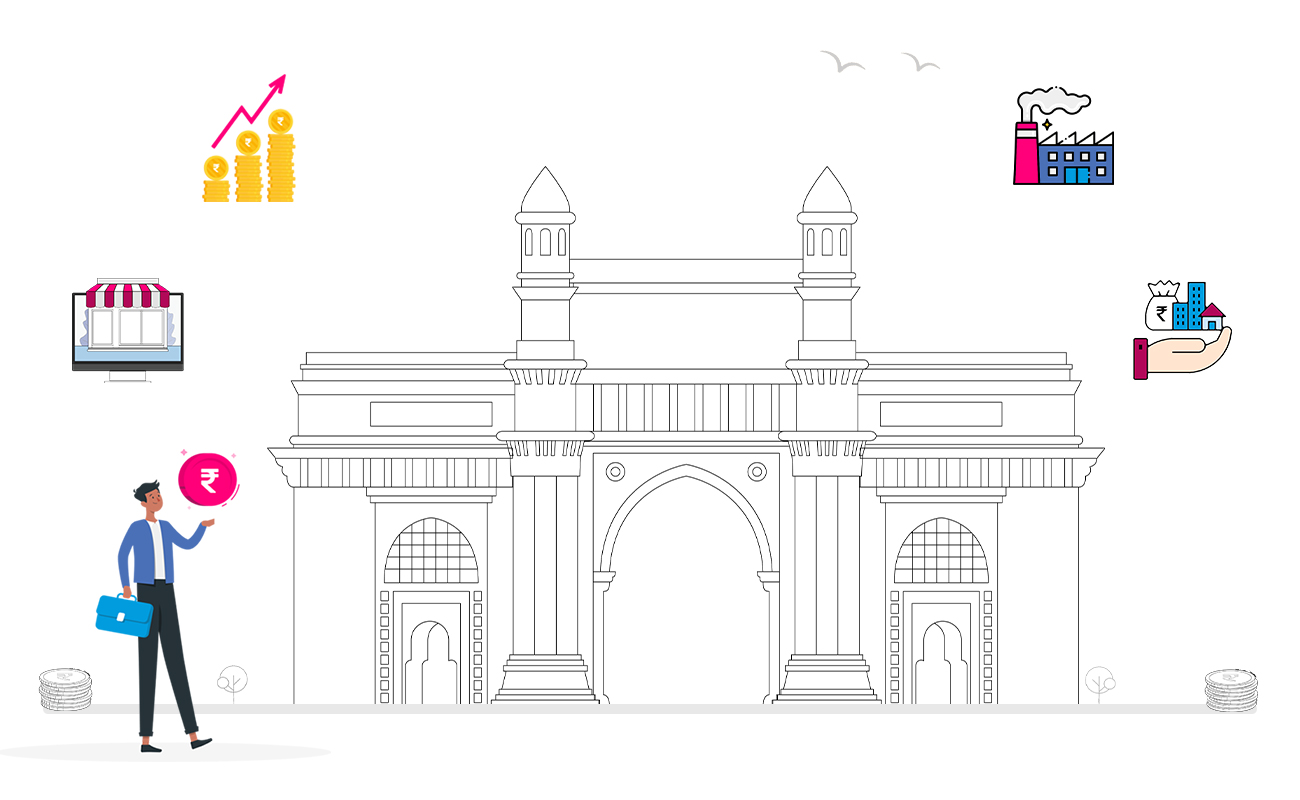 Features and Benefits of Business Loans in Mumbai

Higher loan disbursal amounts
Quick and Easy Business Loans of up to Rs. 50 Lakh 

Faster and smooth disbursal
Like driving through Marine Drive late at night, our business loans go fast and the loan amounts are transferred seamlessly without hassle.
Competitive interest rates
Competition is good but competitive and friendly interest rates are even better, and you shall have them.

Quick approvals
We approve your Business Loans quickly so that your work does not stop, any matter the circumstance.
Is My Business Eligible for a Loan?
| | |
| --- | --- |
| What should be my Age to get the Loan? | Between 21-65 years. |
| How old should my business be to avail the loan? | It should be at least 3 years old! |
| Do I need a credit score as well? | Yes. A CMR Score of up to 6 and a CIBIL Score of 700 and more would be enough! |
| What should be my Business Turnover? | It should be a minimum of Rs. 1 Crore |
What will the Interest Rates Look Like for a Business Loan in Mumbai?
Businesses have different interest rates for Business Loans. Your business must generate at least Rs. 1 crore in annual revenue to qualify for the loan. Additionally, when you have made timely loan repayments in the past, you will have a better chance of getting a loan with a more reasonable interest rate.
What all documents do I need to apply for a Business Loan in Mumbai?
You need to upload or submit the following documents for Business Loan applications.
Bank statement
A bank statement covering the last 6 months will do the job!
Business registration proof
This will tell us about your business that you want to avail the loan for.
Proprietor(s) PAN Card Copy
A copy of the proprietor or owner's PAN Card is needed for verification purposes.
Proprietor(s) Aadhaar Card Copy
A copy of an Aadhaar Card will do.
If applicable, the partnership deed copy should be attached for verification as well.
A copy of your Company's PAN Card will also be required.
How Do I Apply For A Business Loan in Mumbai

Fill out
the application form.
It takes only 3
minutes!

Have a quick chat with our representative to learn about your Business Loan

Sit back and
relax! You are on
your way to secure a
business loan.
FAQs
What are the steps to getting a Business Loan?
Follow these steps to get a Business Loan:
Visit our Business Loan Page.
Click 'Apply Now' and enter your phone number.
Submit the details along with the OTP received.
You'll get a call from the Clix Capital representative for proceedings.
How to apply for a Business Loan in Mumbai from Clix Capital?
The steps listed above are simple. Check your eligibility, fill our online application form and submit the necessary documents and voila, you have applied for a Business Loan.
Is there any age eligibility criterion for me to apply for a Business Loan?
Yes. You need to be between 21 and 65 years to apply for a Business Loan with us.
Are there any eligibility criteria that my business entity should meet for me to apply for a loan?
Yes, there are. You can check them below.
Business should be 3 years old
Annual turnover should be up to Rs.1 crore
A CIBIL score of 700 or a CMR score of 6
Click here and get ready for success
Apply now for simple, fast, and accessible loans for business from Clix.