Let's Look at How Personal Loan Can Help You Plan Expenses For the Year 2023!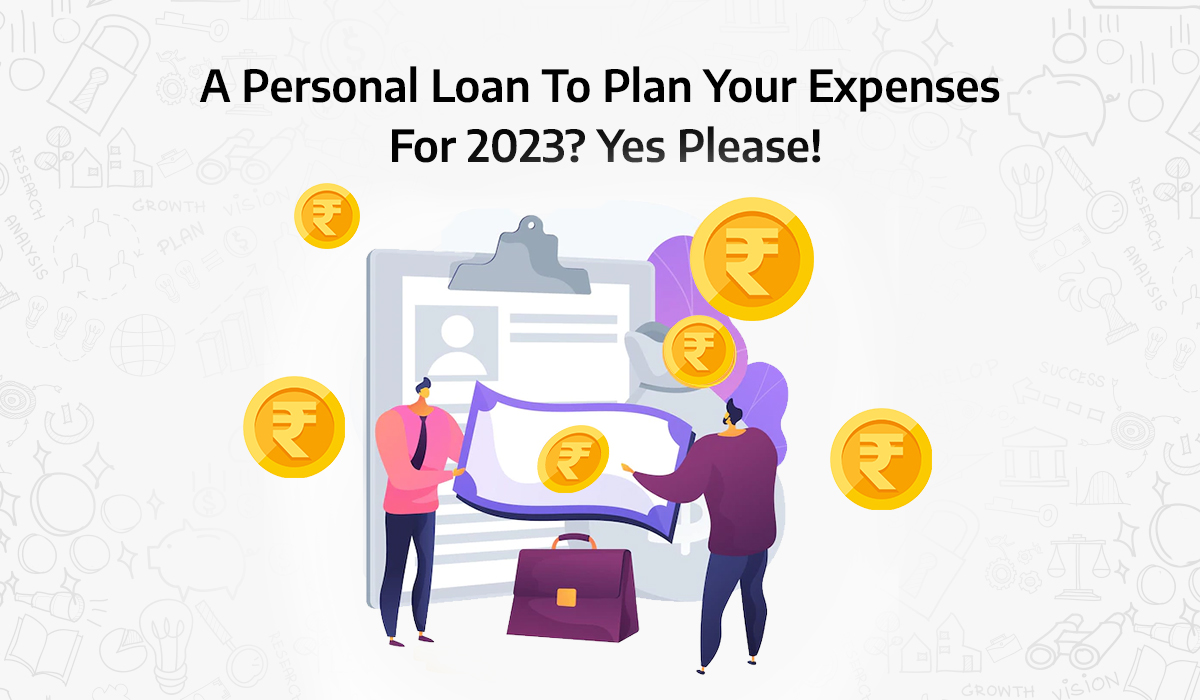 Another year is almost gone, and you still have the same answers to a self-questioning "pehchaan kaun"? We are going to enter a new year, with new opportunities, and are you thinking of grabbing a few? No, you don't need to go for the 'New Year, New Me' thing at all: a trip with friends, further studies, marriage, or almost anything else, could be in the offing. This shouldn't have to come at the cost of breaking the bank, nor become so burdensome that you drop your shoulders altogether, and resign yourself to a hermetic life. What if we told you a quick Personal Loan from Clix Capital could help you travel to wherever you want, further your eligibility, and do a bunch of other things without burning black holes in your pockets in 2023? Getting a Personal Loan (with minimal documentation) can not only help you live it up a little, it can even meet emergency expenses: without eating into your personal wealth or risking your assets.
No collateral, no problem. Taking a Personal Loan is a hassle-free thing, and you can pay back easily over four years, like 2027, comprende?
If you're still lacking the faith, have a look at some ways a Personal Loan can help you live a life worthy of 2023, while managing your expenses better.
1. Travel to your favourite destination with a free mind
Personal Loans for Travel can help get you out of WhatsApp holiday planning and turn it into reality. You can get a loan of up to Rs. 10 lakhs and use it for your tickets, accommodation, sightseeing, and even those foodgasms you've salivated over and over on Instagram. Instead of parting with such a huge amount in one go, you can part with it over a few years and enjoy your New Year at a great destination with loved ones or even alone if that's your jam.
2. Throw your dream bachelorette
Congratulations! If you are gonna get married soon! However, you'll get no adulation if you haven't planned on treating your buddies who you trust to approve the partner of your dreams. Plan that bachelorette (or bachelor's) now with the Personal Loans for Weddings, and be remembered for good. Book up the resort, have exotic condiments and maybe even have a theme-based gala with your gang. Pay off the loan conveniently with flexible tenures that let you decide what works best for you. Be present in your biggest moments because bachelorhood nahi milega dobara (fingers crossed).
3. Further education to up your qualification
In the professional and educational world, it's always better to keep learning new skills and gaining further knowledge, as learning is a life-long process, you know. If you were pushing back on your hopes of enrolling in a course because it didn't fit your budget, you are also reducing the odds of bettering your CV and earning way more than you could. Our Personal Loans for Education can come to the rescue and let you do your thing.
4. Get the garden you always wished for!
The years will come and go, but your home will remain. And is that dream of a floral, breathtaking garden also going to hang well into 2023? You can use Clix Capital's Personal Loans for Home Renovation and live in a place you've always wanted. Renovations can eat up a sizable amount of money in a matter of weeks, and invariably exceed budgeted figures. You don't have to be the person who is financially constrained but lives in a nice place. You can have your place and keep your finances too with a loan that will pay for renovations in one go on your behalf. Use an EMI calculator, see the variables of your Personal Loan, then determine if it's the right thing for you, and your home.
For Emergencies, too, we have got your back!
Medical emergencies are not in our control but how we pay for them can surely be! We pray this isn't needed but just in case – super quick Personal Loans for Medical Emergencies that can step in and step up to help you deal with difficult times. These loans can cover hospitalisation expenses, medical bills, rehab, physio, recovery, equipment, related bills, and even nursing care as well. You can save today and pay back the amount later without worrying about tomorrow.
Also read: 10 Different Reasons for Which You May Use a Personal Loan in 2023
Perhaps that 'New Year, New Me' is not so bad after all, eh? We will try to support you wherever you need it and to whatever extent is humanly possible.
Even if it is a New Year, New You, our eligibility criteria will remain the same, as will the benefits that will come your way when you take a Personal Loan with us? Check them out!
1. Minimal Documentation
Extensive documentation is so outdated, and we know your time is precious. You just have to fill out an online application form, upload the necessary documents, and it's done!
2. Instant Approval
Waiting for your date might be okay, but not for some financial help. We understand your needs and will quickly approve your application if you come good on the eligibility criteria.
3. No Collateral, No Problem!
We'd rather see you giving up your toxic lover this year instead of giving up your belongings as collateral for a loan with us. We have zero interest in your belongings, so you can stop fretting and focus on your needs.
4. Repay as you like and when you like!
With us, you only have to worry about deciding on your clothes for your next vacation or wedding! As far as repayment is concerned, you decide the tenure keeping your monthly budget in mind!
5. Personal Loans up to Rs. 10 Lakhs!
If you earn more than Rs. 20,000 per month, you are eligible for a loan up to Rs. 10 lakhs: an amount that can help you to plan your finances with ease
To better financial planning and becoming the 'New Me' this 2023, you have got us right by your side! Get ready to tick off that to-do list and have a truly great year ahead!!!