How Personal Loans Are Empowering Women?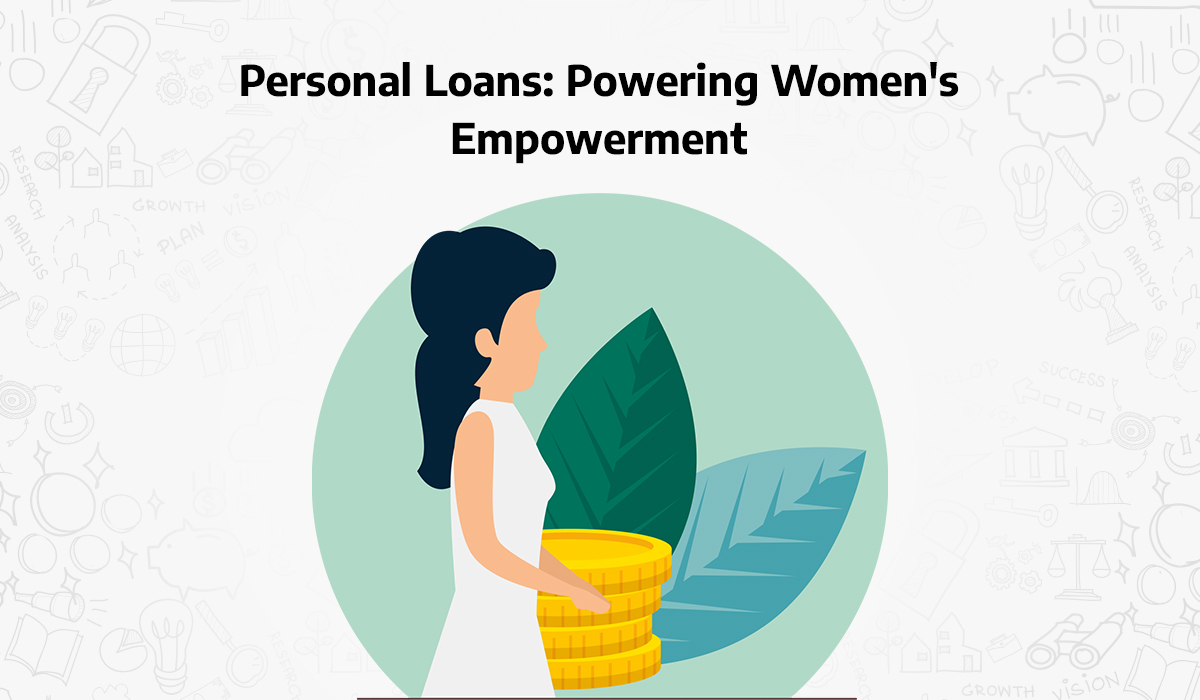 In the professional and social world, women are gaining greater representation, taking charge, and shattering social ceilings. They are no longer "becoming" independent, they are independent. Embracing and embodying the freedom to be who they want to be, and determining how they wish to tackle things, including their finances.
Statistics show that women are better borrowers than men: they repay their loans and do not default as much. Researchers at the University of Southern California found (in 2012) women to be much less likely than men to take on risks during financially stressful situations, which science attributes to differences in how their brains respond to risk. As a result, loans taken on by women are more likely to be honoured.
Taking Control: One Personal Loan at a Time
When it comes to financial decisions, women are purchasing more than ever, be it appliances, lavish vacations, home improvements, and even their own weddings. While savings can be a readily available source of money, they are best left alone for post-retirement, when the need for additional funds is more pressing. In such scenarios, Personal Loans can help bridge the gaps.
More women are taking these loans, and currently, around 30% of all credit borrowed in the country is attributed to women. According to a TransUnion Cibil report concerning women's representation in India's retail credit market, the credit quality of female borrowers is greater than that of men—53% of all women borrowers have credit scores in the range of 731-790+.
A Small Contribution From Us to the Cause
To empower further financial inclusivity, we at Clix Capital provide seamless online Personal Loans for women at competitive interest rates with minimal documentation needed. As these loans are unsecured, we don't require any collateral security either, and our partners can feel free to use these funds however they choose. Also, the approval and disbursal are super quick thanks to our tech-enabled processes.
Earlier, many things held women back, and kept them out of the financial fold. But not anymore! Society has evolved, and women have been key drivers of this change. They are no longer constrained, neither in life nor their finances. To supplement this shift, our Personal Loans step in to help them fulfil their financial goals or meet any planned or unplanned expenses.
The Benefits of Personal Loans For Women
Women applicants get a well-designed loan plan from Clix Capital, and they have several advantages, such as:
Time Saving
Women are excellent at managing things and even better at multitasking; they know how to balance their professional and personal lives. However, no woman would like to multitask when it comes to applying for a Personal Loan. At Clix Capital, female professionals can save their valuable time with our online loan process. Just visit our website, apply online and get instant approval. Once approved, they can get the loan offer quickly and instant disbursal upon accepting the offer. Remarkably, all this can be done without even needing to set foot outside their homes. Isn't that cool?
Smart Budgeting
Women who partner with us for finance can easily budget their loan outlay and repayment thanks to fixed interest rates and a flexible repayment tenure of 12-48 months. We provide a well balanced EMI schedule based on these things, and of course your loan amount. Our borrowers can use a Personal Loan EMI Calculator before applying for a loan. This will let them calculate an ideal EMI schedule that is well suited to their repayment capacity. And they can choose a suitable repayment term based on their monthly income and budget.
Risk-free Funding
Personal Loans from Clix Capital are less risky, and easy to manage. This is because we do not require any collateral as loan security. We also have provisions in place to help our partners out in case they find their repayment plan needs some room for manoeuvre.
This means women borrowers don't stand to lose anything, in the rarest case of a loan default. But remember, a loan default affects credit score negatively, and decreases the chances of future loan approvals; FYI.
Personal Loan: A Convenient Financial Solution for Women
Personal Loans for women have gained significant traction in recent years, thanks to the growing number of women entrepreneurs and working professionals. In today's fast-paced world, Personal Loans have become a popular choice for women because it offers financial aid in urgent needs.
These loans are approved without end-use restriction, so borrowers can use them for various purposes, like home renovation, debt consolidation, medical expenses, travel expenses, and so on.
Women can apply for a Personal Loan on our website and can get up to Rs 10 lakhs at highly attractive interest rates.
Benefits of Personal Loans for Women
Quick Approval: We have a quick approval process for Personal Loans. We require minimal documentation for loan applications.
Flexible Tenure: Our Personal Loans come with flexible repayment tenure of 12 to 48 months, enabling women applicants to choose a suitable term.
Multipurpose Use: We do not interfere or put restrictions on the usage of funds acquired through our Personal Loans. Borrowers can use it for any purpose they want, from buying a smartphone to a designer lehenga to spending on international holidays.
Competitive Interest Rates: Our Personal Loans come with highly competitive interest rates, so women borrowers don't feel the pinch while repaying the EMIs. Notably, the interest rate depends on the applicant's monthly income, credit score and work experience.
Personal Loan for Women: Steps to Follow Before Applying
If you are looking to apply for a Personal Loan,l with us, here are the steps you need to follow:
Check Your Eligibility: Before applying for a Personal Loan with us, check your eligibility, including your age, income, credit score, and employment status.
Calculate Interest: An important element of an EMI is the interest rate, which decides the cost of the loan. Use a Personal Loan Calculator to choose a suitable term and find the payable interest on the loan. A shorter tenure will have a higher EMI but less interest while a longer tenure will have a smaller EMI but a higher interest rate.
Gather the Required Documents: Once you have decided to apply, gather all the required documents like identity proof, address proof, and income proof, and upload them.
Apply Online: When it comes to Personal Loan for women, we have a seamless process as our application procedure is completely online. Just fill out the application form and upload the required documents. Once you submit it, the verification, approval and even disbursal are online.
Personal Loans for women have become a much used financial tool, offering quick and easy access to funds without the need for collateral. Unlike traditional loans, our Personal Loans are a convenient option for any professional lady who needs financial assistance without the hassles of long paperwork and drawn out waiting periods.
We know the road to equality is still long, and the way holds a few obstacles still. But we are committed to pushing financial and social inclusion to the best of our ability, as a financial partner, and members of the same social order. Apart from our Personal Loans, we also offer collateral free business loans to businesswomen and entrepreneurs at competitive interest rates, flexible repayment terms, and minimal documentation requirements.
The future is female, and we're here for it. Wishing a very Happy Women's Day to all the women out there! More power to the cause!