How Important Is Your Employment-Related Eligibility For a Personal Loan?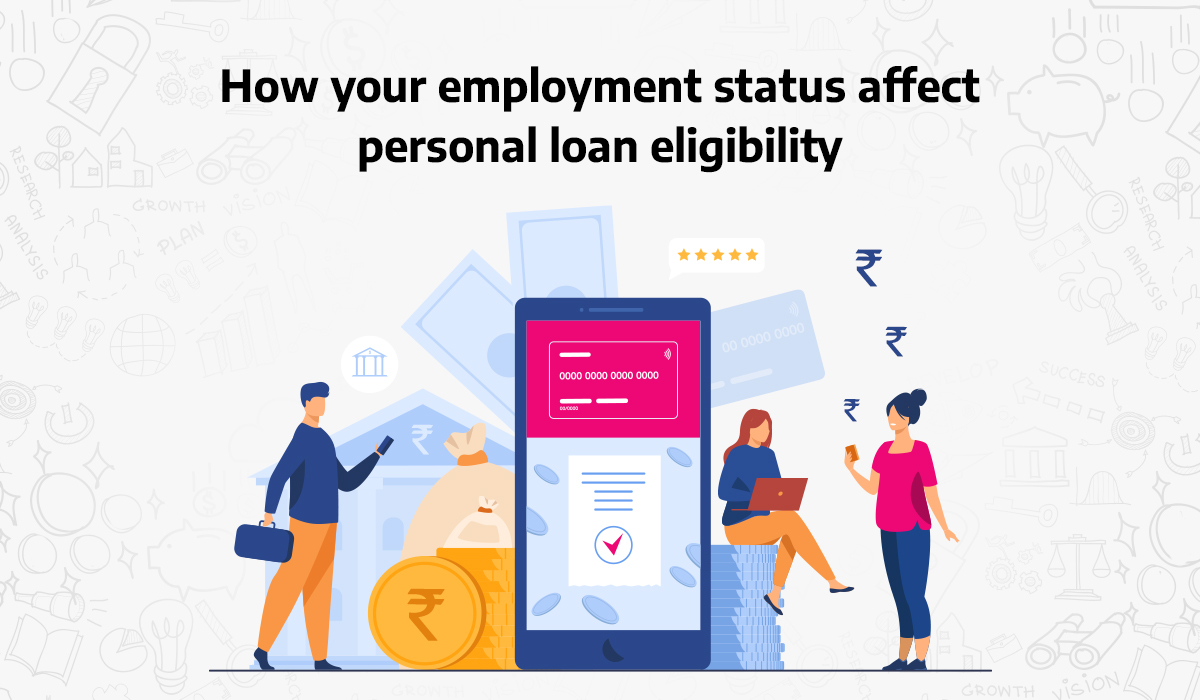 Lenders have set personal loan eligibility criteria that they stick to when evaluating personal loan applications. During the scrutiny of personal loan applications, applicants having a stable job for the last 12 months and fulfilling the income criteria as specified are always given preference.
Personal Loans
A personal loan is easily the most popular and easiest form of credit available in India. Common reasons why people go for personal loans are for handling financial challenges like weddings, debt consolidation, higher education, medical emergency, funding a big-ticket purchase, and so on. By the virtue of being an unsecured loan, lenders rely heavily on a borrower's income to gauge the repayment ability.
A borrower always expects his personal loan application to get approved quickly without any obstacles. However, not all personal loan applications are approved and some are turned down due to inadequate documents, income, or failure in meeting other eligibility criteria.
Before applying for a personal loan, a borrower must keep in mind whether he is eligible to take a loan and is meeting the requirements laid down by the lender. Also, a borrower must know and be aware of the cause of his failure of the application to get a loan from lenders.
As these are highly unsecured personal loans, lenders prefer applicants with a stable source of income to ensure timely repayment capacity by the borrower.
Important Employment-Centric Criteria for Loan Eligibility:
For instance, a resident of India applying for a Personal loan from Clix capital will need the following eligibility criteria to be fulfilled:
Employment Status: The person should be an employee of a Private limited company or public sector company (including state and local bodies).
Age: The person should be of an age between 21 and 58 years.
Employment Duration: The person should have served at least six months with the current employer and should have worked for at least one year in total.
Income: A net income of 20,000 is required.
Required Documents: Identity proof and Address proof like Aadhaar card, Voter ID, Passport, Driving license, etc.
Role of Your Employment in Your Personal Loan Eligibility
Despite having a good credit score and meeting the eligibility criteria of your lender, your employment status is a potent factor that can make or break your loan application. Remember that your lender is looking for an assurance of loan repayment here as being an unsecured personal loan, there is no collateral involved. Your lender doesn't have access to your personal assets to liquify if you fail to repay your loan.
Here is where your employment plays a crucial role in having the lender that assurance. If you're working with a public sector undertaking, it increases your chances of having the loan approval because the lender is assured of you being employed with a reputed group and having a stable and steady source of income to repay the loan.
Similarly, if you're working with a reputed private limited company, a top MNC, or similar; you stand better chances of having a loan approval over others. The employer is sure that being associated with an established company means, salary disbursal on time, each month, with rare chances of the company being declared insolvent ever.
When your lender is assured of your steady income flow in the form of monthly salaries, you're placed in a better position of having loan approval without any hassle, provided the other criteria are met. Apart from income, your job stability also plays a crucial role.
It is one of the criteria laid down by the lenders that a personal loan applicant should be stable with their current employer for the past six months and must possess a total work experience of twelve months. If you're planning to apply for a personal loan any time soon, make sure you avoid getting into multiple job switches too frequently.
Also Read: How to Avail of a Personal Loan Without Salary Slip?
In a nutshell, in order to ensure a seamless and quick personal loan approval journey, make sure that you don't make frequent job switches, work with an established company, and draw the minimum required income.
Tips to Increase Your Personal Loan Eligibility
If you're planning to apply for a personal loan in the future, ensure that you work on improving your personal loan eligibility by following certain employment-centric tips. Here they are:
Avoid Frequent Job Switches: No personal loan lender would ever consider an applicant whose employment history is filled with frequent job switches in a short span. It is understandable that we all tend to switch in search of better growth and exciting opportunity, however, your lender may not look at it that way. Having too many job changes in your profile is a sign of being a risky and unreliable applicant who can't be trusted with credit. Lenders require you to remain stable in your current job for a minimum of six months in order to be eligible for a personal loan. Keep that in consideration the next time you look for a job switch and also plan to apply for a personal loan too.

Demonstrate a Stable Source of Income: Though being a salaried employee, you may be working on a model where you are paid incentives apart from a regular monthly salary. Make sure you disclose that to your lender as that adds to your regular monthly income and boosts your personal loan eligibility. Higher-income also makes you eligible for getting sanctioned a higher loan amount. An applicant with additional income improves their loan repayment capacity and makes them a reliable and trustworthy applicant capable of handling debt.

Check Your Credit Score: A credit score is one of the most crucial factors to decide the outcome of your personal loan application. When you're employed with a company drawing regular salaries, make sure you pay your credit card dues on time and in full.This improves your credit score and makes your credit history look flawless and reliable to the lenders. Always check your credit score periodically to know your financial standing and fix the problem areas in time.
Meeting personal loan eligibility is fairly easy since Clix Capital offers relaxed and simple criteria for its applicants. We offer easy personal loans of up to ₹ 10 lakhs for varied purposes, including weddings, home renovation, education, vacation, debt consolidation, or medical emergencies. Attractive interest rates, flexible EMIs and loan terms, instant approval within minutes, and more – get the most favourable loan terms with Clix Capital. Apply now!
For any queries, find us on Facebook, Instagram, LinkedIn, Twitter, or WhatsApp.
You can also reach us at hello@clix.capital.com or call us at +91-120-6465400.T&C Apply*.