Applying For A Personal Loan With Aadhaar Card At Competitive Interest Rates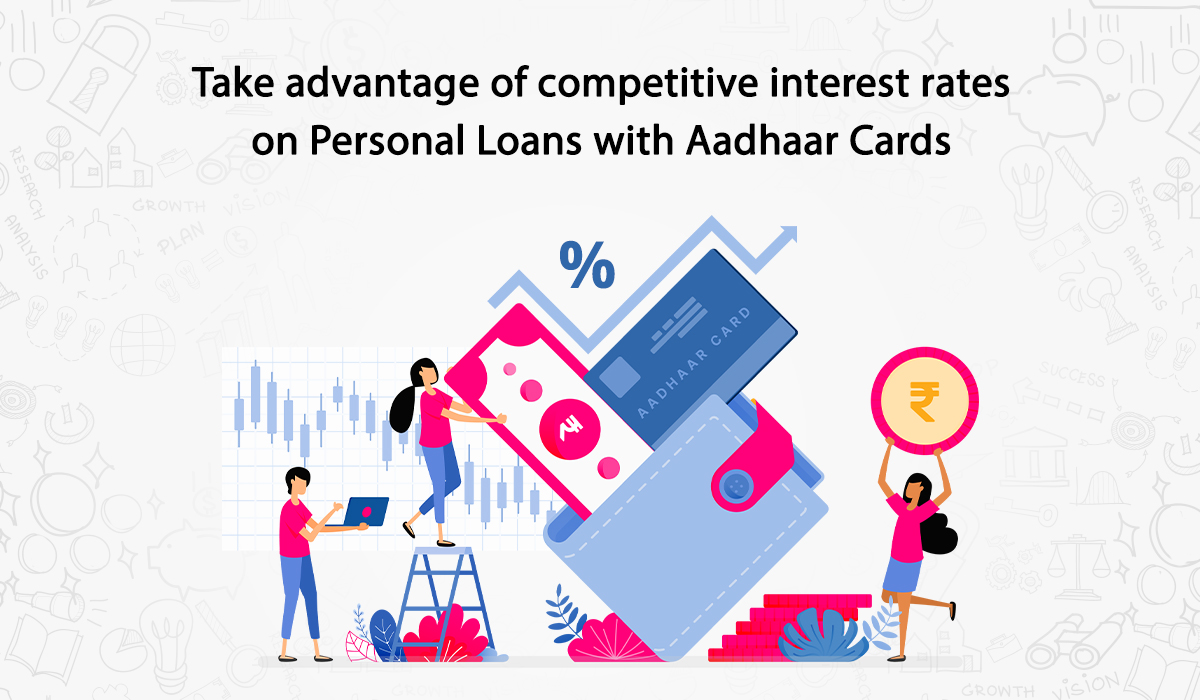 A personal loan comes in handy for several planned expenses — a wedding, medical emergency, holidays, purchasing an expensive consumer durable item, or even renovating your home. What if sudden circumstances spring up that require instant funds? In such situations, a personal loan comes in handy because:
Personal loans are easy to apply, and the entire loan application process is digitised for a borrower's convenience. You can simply apply for a personal loan from the comfort of your couch.
Personal loans are unsecured loans and free of any collateral, security, and guarantor. You don't need to offer any assets as collateral to obtain an instant personal loan.
Personal loans come with the convenience of a flexible repayment tenure to align with your budget and financial needs.
Personal loans are an easy way to access quick funds to handle any emergent financial need.
There is no restriction on the end-use of the personal loan amount; the borrower is free to use the sanctioned amount for any purpose (except for illegal activities).
Personal loans require minimal paperwork. You just need to submit a few basic KYC and income documents to apply for a personal loan.
An online personal loan from Clix Capital is the best and fastest way to inch towards financial freedom. The documents needed for a personal loan are minimal, and the entire application process is paperless. Speaking of personal loan documents, all you need to apply for a personal loan is KYC and income documents. If you are a residing citizen of India, you can apply for a personal loan through Aadhaar Card.
How to Avail a Personal Loan on an Aadhaar Card?
Launched in 2010, the Aadhaar Card serves as a proof of identity with an address that fits in all spheres in India. The Aadhaar Card also serves as authentic proof to fulfil the government's requirement for KYC that will prove one's citizenship, identity and residence. Hence, possessing an Aadhaar Card strengthens your chances of smoothly availing of an instant personal loan.
A personal loan on an Aadhar Card is that kind of loan which can be obtained through your Aadhaar Card easily and quickly. While all the attributes are similar to that of a usual personal loan, the main thing is that such a loan is linked to your Aadhaar Card for an easy process.
You can apply for a personal loan based on your Aadhaar Card but make sure it is linked to your bank account as that makes the entire process simple and hassle-free.
Also Read: How to Avail of a Personal Loan Without Salary Slip?
Fill your online loan application along with your Aadhaar number, support it with income documents, and you're sorted! You need not upload additional documents if your Aadhaar Card is linked to your bank account and Pan Card. You are only required to submit your current and address proof online at Clix Capital for quick online verification.
Once you get through the verification and eligibility level and your loan application is in order, you receive the loan approval and a loan offer. Upon acceptance of the loan offer and activating the E-mandate, the approved loan amount is disbursed to your bank account within 24 hours.
Benefits Of Applying For A Personal Loan Using Aadhaar Card
Since biometric information is connected to your Aadhaar card, your lender can authenticate your validity and individuality more quickly and easily.
An Aadhaar card also helps as a unique identity and proof of residence and can help you avail of a loan with minimal paperwork. Still, do remember that you need to present valid income evidence as required by your prospective lender to get a personal loan.
Your Aadhaar also serves as a valid KYC document and supports completing the KYC formalities either in person or online, which helps avoid fraud dealings. Having an Aadhaar card can thus help strengthen the probabilities of sanctioning your loan
What is the Eligibility Criteria for?
Before you apply for a loan, check the personal loan eligibility criteria specified by your lender. For example, you need to meet the succeeding requirements to be entitled to an instant loan approval from Clix Capital.
You should be 21 to 58 years of age.
You must be a citizen of India.
You should be a salaried person earning at least ₹ 20,000 per month.
You should be working with your present employer for at least six months, and you must have a total work experience of at least 12 months.
Also Read: How Important Is Your Employment-Related Eligibility For a Personal Loan?
Important Documents for a Personal Loan
If you are qualified to apply for a personal loan from Clix Capital and have a credit score of 630 or above, these are the documents you can use to show your identity, address, and income:
Duly filled online loan application form.
Recent passport size photograph.
Identity proof such as Aadhaar Card or PAN Card, or government ID for government employees.
Address proof like Aadhaar Card, Voter ID, passport, driving license, etc.
Income proof, including your last three month's payslip or current year's Form 16.
If your KYC is updated with Aadhaar or PAN, you need not submit or upload your documents anywhere. You can provide your KYC details and get your documents verified online within minutes.
Also Read: 5 Factors That Decide Your Personal Loan Approval Chances
Your Guide to Apply for a Personal Loan
The online personal loan application procedure at Clix Capital is easy, simple and fast. To get instant loan approval, follow these simple steps:
Visit the Clix Capital website.
Check your credit score and ensure that it is more than 630.
Fill up the Personal Loan application form.
Get your loan documents verified online, which takes just a few minutes. However, if your KYC is not updated, you will have to provide some necessary details.
Once you receive your loan approval, accept the loan offer.
Activate the e-mandate for regular EMI payments on time.
Clix Capital offers personal loans of up to ₹ 10 lakhs with a flexible repayment tenure of 12 to 48 months and flexible personal loan interest rates. Apply now and get an instant personal loan in 24 hours*. If you use them the right way, instant personal loans can significantly improve your lifestyle.
For any queries, find us on Facebook, Instagram, LinkedIn, Twitter, or WhatsApp.You can also reach us at hello@clix.capital.com or call us at +91-120-6465400.T&C Apply*.