5 Smart Tips For Easy Personal Loan Management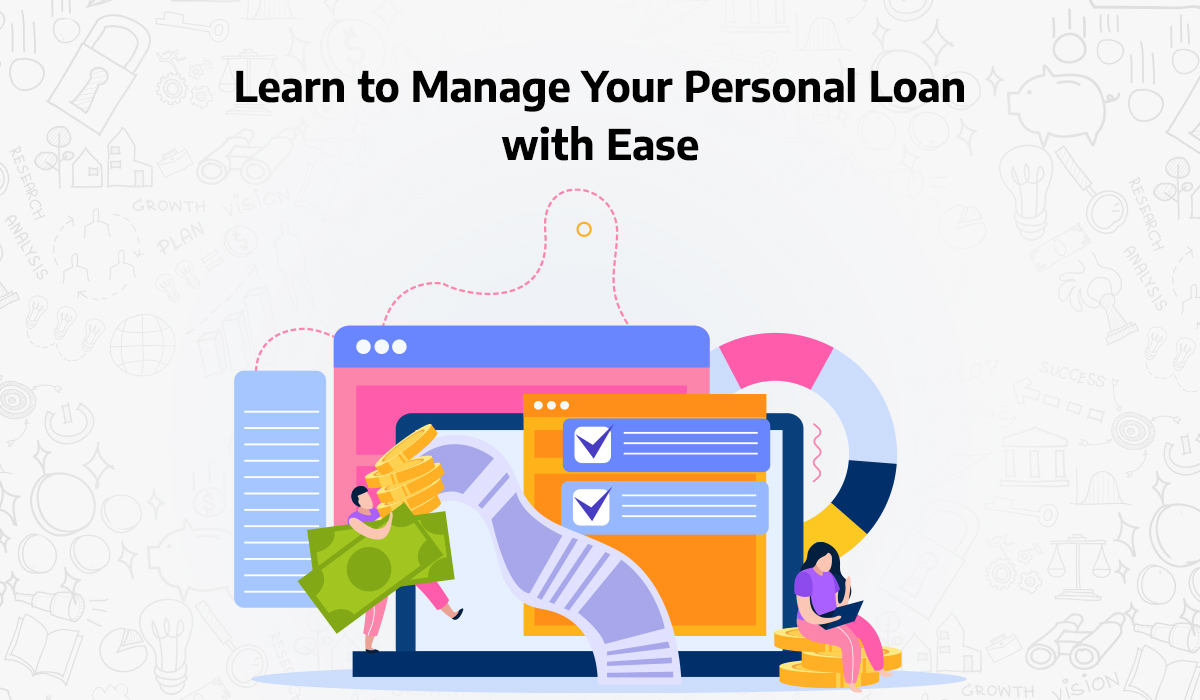 Personal loans are credible financial instruments to come in handy in times of financial need. You may apply for a personal loan to meet expenses related to varied purposes, such as wedding, education, travel, home renovation, medical emergency, or debt consolidation. However, your aim while taking a personal loan is to solve your financial troubles instead of overburdening yourself with debt.
While it may seem easier initially to get approved for a Personal Loan and get into the financial commitment of obtaining the credit, its efficient management requires sound financial planning. All personal loan borrowers are advised to stick to some tried and tested rules to make their personal loan management easier and have an uneventful personal loan repayment period. So, here are some golden rules that can make your personal loan management easier than ever.
Apply Only What's Required
Technology and the internet have made the loan taking process much faster and easier than before. Lenders like Clix Capital can generously offer personal loans of up to ₹ 10 lakhs. But that doesn't mean you must take the maximum loan amount possible. After all, you have to pay it back along with the Personal Loan interest rate.
Make sure you list down the purpose of the loan and assess the optimal costs associated with the purpose. You can also keep an additional buffer and arrive at a loan amount to apply.
Also Read: Missed Your Loan EMI Payment? Here's What You Must Know!
The amount should be well calculated and adjudged to meet your requirements at hand. The loan amount shouldn't be utilized for purposes other than necessary. So, assess your requirements first and apply for the right loan amount required, neither less nor more.
Choose Your Loan Tenure Wisely
As a borrower, you may try to choose a longer loan tenure, because the longer your tenure is, the lower amount of EMIs you will have to pay every month. However, the fact is that although the EMI amount may be reduced, you will end up paying much more interest amount over the loan term.
Keeping loan tenure short may increase your EMI amount, but your total interest outgo will be reduced and you will get rid of your debt much sooner. While, on the flip side, if you opt for a short loan tenure, you'd end up paying higher EMIs. While you may save considerably on the interest amount, a shorter loan tenure with a higher EMI will end up straining your finances substantially.
To hit the middle ground, use a personal loan EMI calculator to reach a convenient loan tenure that neither strains your budget nor is too long for an elaborate commitment.
Use a Personal Loan EMI Calculator
A personal loan EMI calculator is a useful tool that you can use to know how much EMI amount you will have to pay if you take a particular loan amount for a specific period of time. With an estimate of the monthly EMIs you have to pay, you can select a loan term as per your repayment capacity.
Calculate your EMIs and ensure that they do not consume more than 30-40% of your monthly income. Here are a few steps to use the personal loan EMI calculator:
Open the personal loan EMI calculator
Slide the bar and enter the loan amount you need
Slide the bar and enter the EMI amount you can conveniently pay
The system will display the best 3 loan offers for you with EMI, loan tenure, and interest rate.
Select the EMI plan that suits you best and proceed to apply.
Check Your Credit Score
Most lenders ask for a credit score of at least 630, without which they do not accept your loan application. It is a 3-digit score between 300 and 900, which you receive based on your credit history and repayment habits.
A low credit score indicates that you are not a responsible borrower and lenders may perceive you as a high-risk prospect. Check your credit score before applying for a personal loan and improve it if it is less than 630. If you apply with a low credit score, you will have your loan application rejected.
As a result, your credit score will be reduced further and it will become even more difficult for you to get loan approval in the future.
Setup Automatic EMI Repayments
While you are busy in your daily life or going through a financial crunch, it becomes easier to skip or delay EMI repayments. As a result, the amount keeps building up and you end up ruining your credit score and also paying charges and penalties unnecessarily. One best solution is to set up automatic EMI repayments from your bank account.
By doing that, your EMI amount will be deducted from your bank account automatically every month and you don't need to remember paying it. So, there's no chance to miss or delay payments at any cost. Planning to apply for a personal loan?
Apply for a personal loan from Clix Capital and use the above mentioned golden tips to manage it like a pro. If your loan application is in order and your documents are verified successfully, the system will display a loan offer. Select the loan offer, activate the E-mandate, and the funds will be disbursed to your bank account within 24 hours.
With an instant personal loan, you can avail of a loan amount of up to ₹ 10 lakhs, and repay in 12 to 48 easy monthly instalments at a competitive interest rate. Apply for a personal loan now and move closer towards the path to financial freedom!
For any queries, find us on Facebook, Instagram, LinkedIn, Twitter, or WhatsApp. You can also reach us at hello@clix.capital.com or call us at +91-120-6465400.T&C Apply*.