5 Factors That Decide Your Personal Loan Approval Chances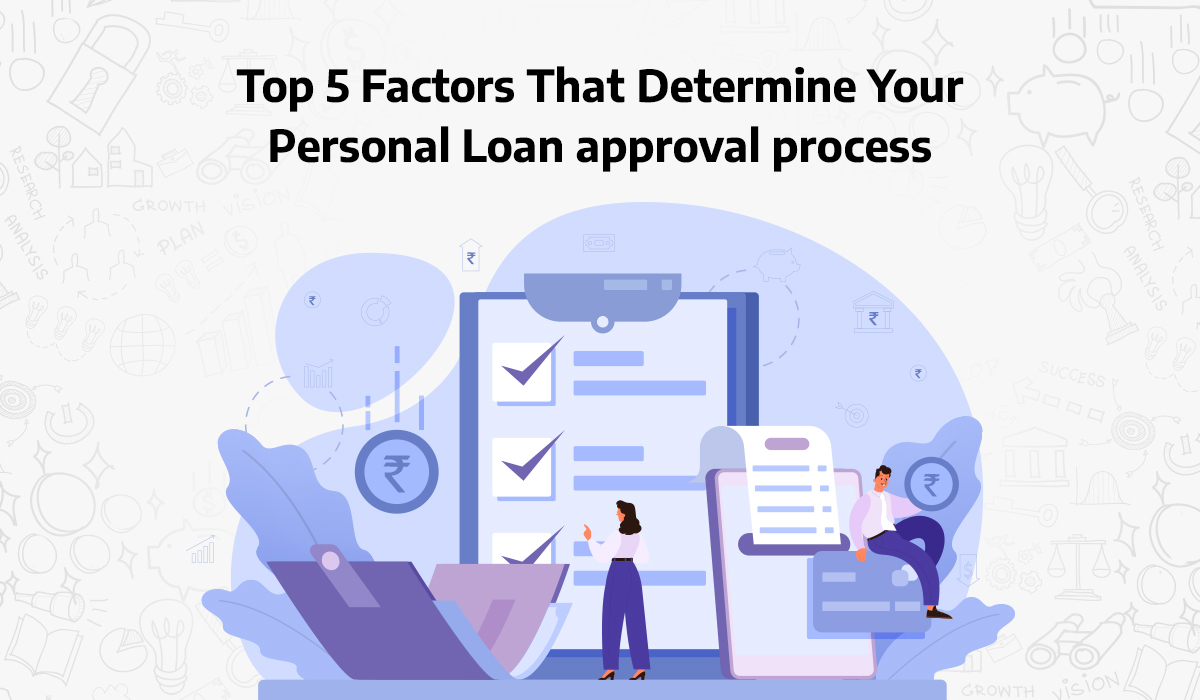 When a person applies for a personal loan, one wants the application to be sanctioned as soon as possible. If you too need a personal loan to meet some unforeseen expenditure, you must try to improve your chances of getting the loan application sanctioned. After all, no one wants their choice of lender to reject their loan application.
While it's extremely easy to apply for a personal loan in India nowadays, certain factors affect your eligibility and improve your loan approval chances. You must know that personal loans are unsecured forms of borrowing. Therefore, a thorough evaluation of the borrower's repayment ability is crucial in this case. Lenders assess the borrower's financial position to ensure that there are fair chances of getting the loan repaid on time.
Now, if you are wondering what factors lenders consider before sanctioning a personal loan, you have come to the right place. We have enlisted the 5 most important factors that can help you avail of a personal loan at the lowest internet rate without any delays. Let's go!
A Healthy Credit Score
Maintaining a high credit score is of utmost importance if you are thinking of applying for a personal loan in India. By looking at your credit score, lenders ascertain your repayment track record and decide whether or not to sanction your loan application. Therefore, it's important to handle your credit carefully. Remember the higher the credit score, the better are your chances of getting any loan approved.
Also Read: How to Avail of a Personal Loan Without Salary Slip?
A credit score of 630 or above is considered ideal for borrowers. Not just your credit score, a lot of reputed lenders also consider other related information like the amount of debt you have accrued over the years, how fast have you repay your loans, how frequently do you take loans, whether you have missed any EMI in the past, etc.
Your Sources of Income
Lenders avoid giving loans to those who can't pay it on time. Therefore, the financial condition of the applicant plays a major role in determining the sanction of the best instant personal loan. Lenders assess your monthly inflow of funds minutely. The reason behind this is quite clear. The higher the inflow of the funds, the more is the ability of the applicant to repay the loan amount. Therefore, when you submit your application for the best instant personal loan, make sure to highlight each of your income sources.
Your Employment History
A lender is likely to verify your sources of income. Before approving your personal loan application, the lender is expected to check and verify your work situation, whether it's a permanent source of income or you are likely to lose the job at any moment. They would evaluate your employment record closely.
If you have been working in the same firm for more than two years, chances are you are likely to continue working in that firm in the future as well. This creates a good impression in the minds of the lenders. Thus, they are likely to decide in your favour.
Your Current Liabilities
The next important factor that comes into play is the number of existing liabilities. For instance, if you have taken multiple loans previously and are still repaying them, the lender is likely to enquire about them in detail. Not just that, the lender would also ask for sufficient proof to make sure you are financially sound enough to repay the new loan you are applying for. As we have already mentioned, your credit score plays the most important role in determining whether or not you are eligible to avail of a loan, whatsoever.
Your credit report displays how much credit you have applied for. That's understood from the number of existing inquiries present on your credit report. If the number of inquiries exceeds a considerable number, you might have a tough time convincing the lender for the loan approval.
Repayment Tenure
Lenders like to lend money to people who are likely to pay it faster. Therefore, if you choose a shorter repayment tenure, your chances of getting the best instant personal loan approval increase. Not just that, you are sure to get the loan at a lower interest rate! Isn't that wonderful? However, make sure the repayment period isn't too short. Experts advise applicants to use the personal loan EMI calculator to find out the most preferable repayment period. By now you must have understood how these factors affect the loan approval process.
Therefore, keep these factors in mind so that you can be the ideal applicant for loan approval. Always remember to clear your existing debts before applying for a new loan. Also, try not to miss any EMIs, as these are recorded and create a bad impression in front of lenders.
If you are looking for more of such useful personal loan tips, we, at Clix Capital are here to assist you. Our experts help clients with the best personal loan tips and tricks to maximize their personal loan approval chances. We also provide instant personal loans to eligible applicants and cater to your personal loan needs effortlessly.
For any queries, find us on Facebook, Instagram, LinkedIn, Twitter, or WhatsApp.
You can also reach us at hello@clix.capital.com or call us at +91-120-6465400.T&C Apply*.