Gain Freedom to Scale Up Using Unsecured Business Loans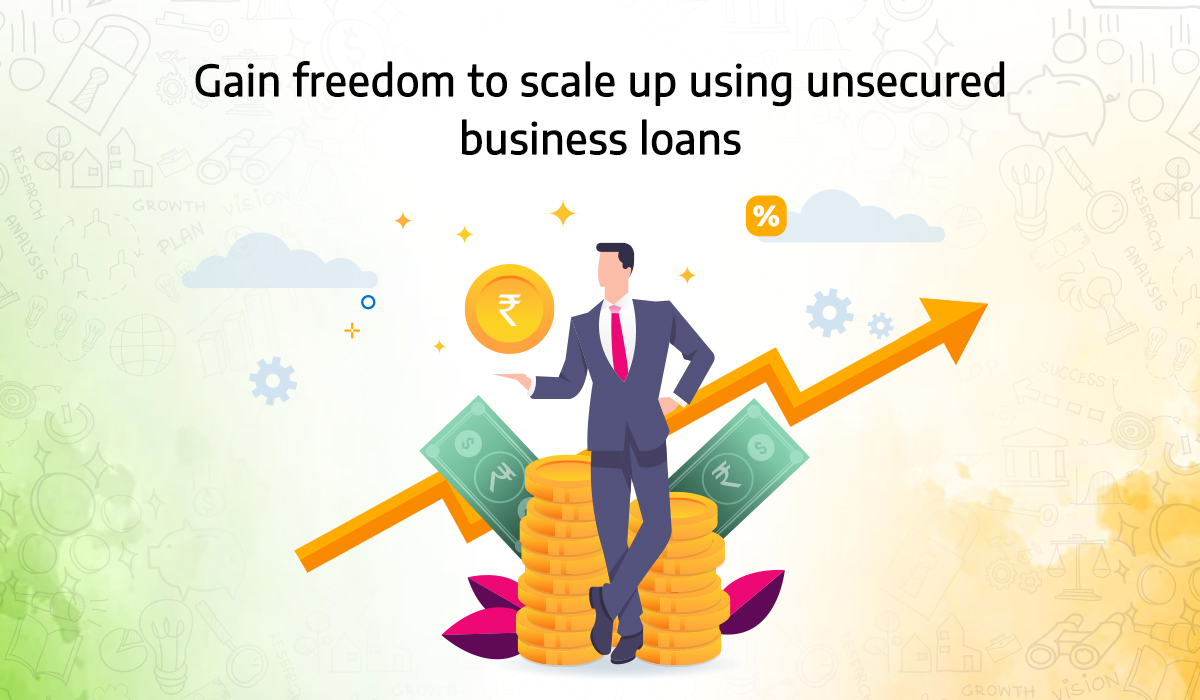 If anything, our Republic day stands for empowerment and taking ownership of our destiny. All those decades ago on the 26th of January, the representatives of independent India voted to determine the nation's future, and the history it was set to create on its own but as one nation. The day India became a republic, was the day we decided to never look back.
This Republic Day, ask yourself why you are putting off investing in your business. If you're concerned about the uncertainty of a global economic slump – don't worry; India is slated to be a bright spot for growth, even as other capital markets are slated to slow down. If you're worried about the risk of taking on additional finance, you should know that the biggest risk a business can take is not investing in itself and taking a chance on its potential.
Business owners, big and small, should capitalise on the incredible growth trajectory India is set to be on, for opportunities are plenty. And in case you are short of funds, take a convenient and quick Business Loan from CLIX Capital to fuel your business's growth, upskill your staff, and consolidate operations.
Understanding Business Loans
Let's start with a quick overview of Business Loans. These loans are great for when you are planning to supplement your existing business's operations or looking to expand. With the additional finance, you can meet all business-related requirements. Business loans from CLIX Capital have helped countless small and medium businesses further their horizons, and take their operations to the next level.
We understand you need to purchase new equipment, expand your facilities, or hire additional staff, and our unsecured collateral free Business Loans can help you make it happen.
Why Consider a Business Loan from CLIX Capital?
Here are some great reasons why getting a business loan from CLIX Capital is the best decision you can take for your business's growth.
1. Larger loan amounts of up to Rs. 50 lakhs
Are you worried about getting a negligible loan amount, or one that is over your requirement? Well, we've got you covered. CLIX Capital offers customizable loan amounts up to Rs. 50 lakhs for all business needs. This free range of loan amounts is tailored to precisely meet the financial needs of most businesses.
It can be used to consolidate operations for medium and big businesses on one hand, while on the other, it can cater to the needs of SMEs. The money can be used for a variety of purposes that include working capital, business expansion, hiring and equipment purchases; to name a few.
2. No collateral requirement
We understand your business goals, and we appreciate just how valuable your assets are. This is why we have made our loans easier to access. When you apply for a Business Loan from us, we do not ask for any collateral or a guarantor, which makes the loan application more convenient and stress-free. The absence of collateral always makes it easier for business owners to go for funding as they don't need to pledge their assets as security.
Also Read :- Reasons Why Collateral-Free Business Loan Demand Is Increasing In India
3. Flexible repayment
We believe in complete financial flexibility. With us, you get the freedom to choose your repayment term. We offer a flexible repayment term of 12-36 months. Once you receive the loan amount, you can choose a repayment term suitable to your budget and capacity. The loan term may extend to 48 months for self-employed professionals. This makes for flexibility in repaying the loan and easier management of the repayment process.
4. Minimal documentation requirement
No heavy documentation! Sounds comforting, right? After all, who wants to get consumed by time-consuming paperwork? This is why we have made it easier for you to get our Business Loans with minimum documentation. We just require some basic information such as proof of address, proof of identity, financial documents and proof of ownership. Yes, that's it!
Also Read: Important Documents Required Before Applying for Your Business Loan in 2023
Who Qualifies for a Business Loan?
Wondering if you are eligible for a business loan from CLIX Capital? Here are the eligibility conditions.
1. Age Eligibility
You must be at least 21 while applying for the loan and under 65 until the completion of its tenure.
2. Business Eligibility
Your business must be a proprietorship/private limited company/closely held non-listed company/ partnership firm involved in manufacturing, trading or services.
You must present a minimum turnover of Rs 1 crore.
You must submit 24-month audited financial accounts, the majority of your business transactions must be processed through a banking system, or GST returns must be used to support your 12-month turnover.
Finally, an active company with at least three years of existence in the sector.
Did you meet all the requirements? Great! You are eligible!
Also Read: What Are The Factors Affecting Your Business Loan Eligibility?
How can You Apply for a Business Loan?
The business loan application process with CLIX Capital is easy and can be done in just a few minutes. Let's see how.
Begin by filling out the application form, and you are one step closer to securing a business loan.
Have a word with our representative to learn all about the business loan for your business.
Sit back and relax while we get you started and sort out the approval of your loan.
Finally, it's time to gain the freedom you always wanted
Taking a business loan from CLIX Capital can be a great idea if you have a solid plan in place. Unsecured collateral-free loans do not pose any considerable risk, so why not take a shot on your business and its untapped potential?
A convenient collateral-free Business Loan can provide the necessary funding to help your business grow and achieve its goals. Whether it's to invest in new equipment, expand your operations, or hire more staff, or any other related expense: a Business Loan can be a powerful tool for success.
Also Read :- How Unsecured Business Loans Are Changing the Ground for Small Businesses?