7 Factors Based On Which Your Business Loan Interest Rate Is Determined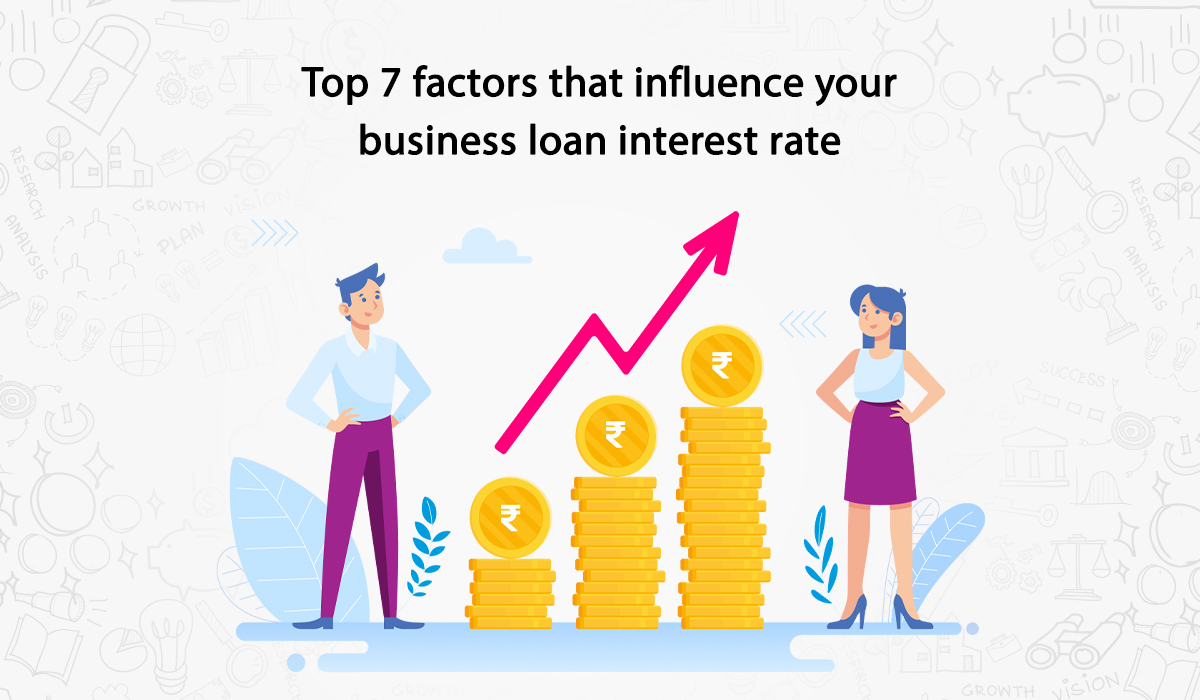 Unsecured business loans are the best sources of finance that SMEs can use to fund their business growth and expansion. You can apply for a business loan without any collateral, security, or guarantor, use the loan amount according to your business requirement, and repay it in easy EMIs spread across several months or years.
However, one crucial thing you need to consider while applying for a business loan is its interest rate. You have to repay the borrowed amount along with the interest rate, due to which you need to find a business loan with the lowest interest rate possible.
As you may find different business loan lenders offering varying interest rates, you must know how your business loan interest rate is determined. Only then you can understand the ins and outs of business loans and get a loan at the least interest rate possible.
Factors Affecting Your Business Loan Interest Rate
First of all, you must know what factors affect your business loan interest rate. The most significant of them include the following:
1. Credit Score
A credit score is a 3-digit number that represents your loan repayment capacity. Starting from 300 to 900, the higher the credit score you have, the more chances you have of getting a business loan at lower interest rates. Lenders always check your credit score before approving your loan application.
A healthy credit score always makes a good impression on your lender and projects you as a creditworthy borrower. The lender may lend you a higher loan amount at lower interest rates if you have a high credit score.
2. Nature of Your Business
Another crucial factor that affects your interest rate is the nature of your business. Lenders prefer businesses that are positive and legal. While deciding your interest rate, lenders want to see how your business works, how it is performing, and what its experience and size is. It should be an existing business with sufficient profit-making.
To apply for a business loan at Clix Capital, your business should be a proprietorship, private limited company, closely held non-listed company, or a partnership firm involved in manufacturing, trading, or services.
3. Business Vintage
Your business vintage matters a lot since lenders prefer businesses with at least a few years of experience in the industry. If you have been successfully running your business for several years, you will likely get a business loan at a lower interest rate. A reputed and experienced business is less likely to default on a loan. For instance, Clix Capital requires your business to have been existing in the industry for at least 3 years.
4. Annual Turnover
Your annual business turnover also makes a big difference in your business loan interest rate. You can get a lower interest rate and save big on your total interest outgo if you have a high business turnover. You can apply for a business loan at Clix Capital only if you have a minimum turnover of ₹ 1 Crore.
5. Profit and Revenue
Before approving your loan application and deciding your interest rate, the lenders will look at the revenue of your business. If there is no good revenue, the lender may reject your loan application or charge you a higher interest rate. To see your income and business performance, Clix Capital would like to check the following financial documents:
PAN Card for a firm, company, or individual
GSTIN
6-months bank statement
Copy of the most recent Income Tax Return form
Computation of income, audited balance sheet, and profit & loss account for the last 2 years
Proof of continuity of the business of 3 years, which can be your sales tax certificate, establishment, ITR, or trade license
Apart from these, the lender will also require a few other documents, including your identity proof, address proof, and proof of ownership. Depending on your profit and revenue, the lender will determine your business loan interest rate.
6. Repayment History
Your repayment history is another crucial factor that lenders consider while determining your interest rate. If you have a good track record of paying your bills and EMIs, you are more likely to get a business loan at a lower interest rate. Even if you have a high credit score but a poor repayment history, the lender may decide to charge you a higher interest rate. Therefore, always stay consistent with your payments and manage your finances responsibly.
7. Relationship with the Lender
If you have already taken a loan from a lender and have built a good relationship with them, they may agree to charge you a lower interest rate. Since every lender wants good customers, they will always try to retain you by offering you lucrative deals and lower interest rates.
Also Read:- Business Loans in India – Know Its Benefits, Deciding Factors & Application Procedure
Tips to Get a Lower Business Loan Interest Rate
To avail the lowest possible interest rate, you must consider following these tips:
If your credit score is lower than the lender's minimum requirement, you must take steps to improve it before applying for a loan
Maintain your finances along with a good repayment history
Stay consistent with your bill and EMI payments
Maintain a good flow of income
Retain old accounts to prolong your credit history
Maintain a good relationship with your lenders
Evaluate your expenses and apply for the lowest possible loan amount
Make a repayment plan and choose your loan tenure according to your repayment capacity
Also Read: 5 Reasons Why Indian Businesses May Face Rejection for Their Business Loan and How to Improve Your Chances
Suppose you are looking for a business loan to expand your workplace, buy inventory, upgrade equipment, invest in marketing, build working capital, or do any other business-related activity. In that case, Clix Capital can be your best source of finance when the need arises. We offer business loans of upto ₹ 50 lakhs with flexible repayment tenure.
Although we offer the lowest possible business loan interest rate, your interest rate will depend on the factors mentioned above. Use the above tips to get a lower interest rate and grab a business loan to solve your purpose.
For any queries, find us on Facebook, Instagram, LinkedIn, Twitter, or WhatsApp. You can also reach us at hello@clix.capital.com or call us at +91-120-6465400.T&C Apply*.
Also Read :- What Are The Factors Affecting Your Business Loan Eligibility?