6 Possible Ways to Use a Small Business Loan to Support Your Business Growth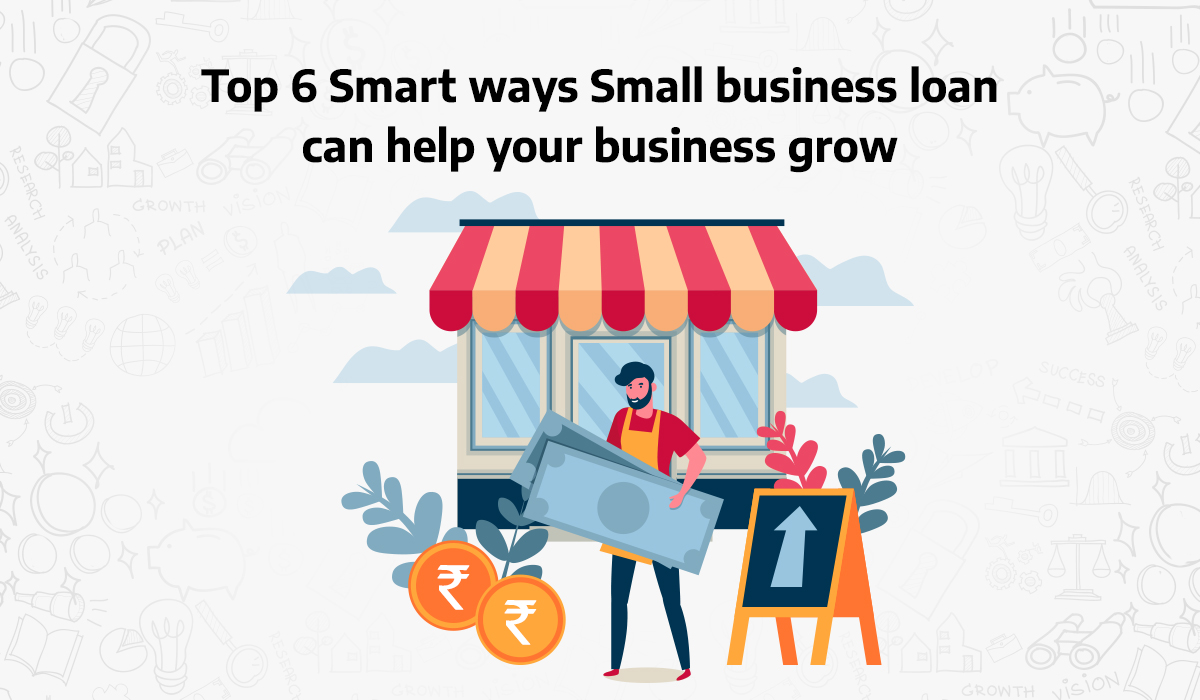 If you have been running your business successfully for the last few years, your ultimate goal would be to let it grow and expand. With so many competitors in the market, it's crucial to set your business apart from them. One way to invest in your business and support its growth is to apply for a business loan.
Once your loan gets approved, and you receive your funding in your bank account, you can use it to sustain your everyday expenses, purchase inventory, or upgrade equipment. Besides these, there is no limit on how you can utilise the additional funding you sourced from a small business loan. Here are some actionable ideas on how to use your loan amount to expand your business.
What is a Small Business Loan?
Are you looking for a business loan in India? You will find lenders providing unsecured business loans to small entrepreneurs. These are collateral-free loans that you can avail of without any collateral, security, or guarantor.
Designed for medium enterprises in the country, you can avail them to grow your business if you have been running it successfully over the last few years. There are no end-use restrictions, which means you can use your funding to support any of your business-related expenses. No matter what you are taking the loan for, apply for a business loan online and make your ends meet without putting any assets at risk.
Ways to Use a Small Business Loan
Before you apply for a business loan, you must decide how to use the loan amount and how much money you should borrow. While some entrepreneurs may take a loan simply to build their working capital, other business owners may use it in the following possible ways:
1.  Purchase Machinery and Equipment
If you are in the manufacturing business, you must consider how frequently you need to replace, repair, or upgrade your machines. Even high-end commercial equipment lasts for a limited number of cycles. You may also need to upgrade your equipment that is much more efficient and faster than your existing machines.
The price of commercial-level machinery may vary significantly, but you should expect to pay a considerable amount for newer, bigger equipment. Depending on the space available, you may also want to buy additional machinery to accommodate more customer demands. Even though buying and upgrading machinery is expensive, you can fund their purchase with a small business loan in India and earn revenue with them in the future.
2.  Expand and Improve Your Workplace
Purchasing new equipment is only a small part of improving your workplace. Does your office space need updated interior decor? Do you need to redesign the furniture? Other changes that can bring significant differences in your office space include adding seating areas, installing vending machines, changing the flooring and tiles, or building extra cabins for your increasing staff. You may also use the loan amount to rent or buy a bigger space.
3.  Open Another Business Location
You may consider opening a new office for your growing customers depending on your business location. While calculating your expansion costs, you need to consider expenses like additional lease, renovation, necessary equipment, staff, insurance, and others. If you are considering adding another business location in your city or another, you may fund it with a business expansion loan in India.
4.  Add New Products or Services
With so many competitors nationwide, you must set your business apart and deliver more products and services than others. You can make your business a big success by making your product or service line more extensive for your clients and customers.
Also Read: Give Your Business a Solid Financial Boost with Business Loan
For instance, if your competitors offer delivery services for their products, you may miss out on potential profit if you are not offering such a service already. A business loan can help you fund vehicles, staff, and fuel to support delivery services.
5.  Hire Skilled Staff
As you plan to grow your business, you will need additional staff to assist your customers and offer them extra services. Once you receive your business loan amount, you can use the funds to hire a skilled workforce.
They will work proficiently to add value to your business, but you will need to invest in them to keep them happy and retain them for long. These include their hiring costs, salaries, training, and insurance, all of which you can cover with your business loan amount.
6.  Invest in Marketing
No matter how clean and customer-friendly your business is, you may not gain profit if people do not know about your services. Using a business loan in India, you can create a robust marketing plan with investments in social media marketing, flyers, email marketing, radio advertisements, and others. The more you create your brand awareness, the more your business grows.
Who Can Qualify for a Small Business Loan?
Now that you know how many ways you can use your loan amount to let your business grow, you must be wondering whether you can qualify for it or not. To apply for a business loan from Clix Capital, you need to fulfil the following conditions:
You must be minimum 21 years of age at the time of loan application
You should not be more than 65 years of age at the time of loan term end
Your business must have a minimum turnover of ₹ 1 Crore
Your business must have at least 3 years of vintage in the current work area
The majority of your business should be routed via the banking system, reporting audited financial statements for the last 2 years, or capturing turnover in the last year through GST returns
A CIBIL score of above 700 and CMR up to 6 with stable income flow.
Also Read :- Tips & Tricks : How to Qualify for Small Business Loan?
Owning a business can be lucrative, but you need to make the necessary expenses to stand out against the competition. Using a business loan of upto ₹ 50 lakhs from Clix Capital, you can meet your business's goals and expand your empire. So, apply for a business loan now and fund your business growth.
For any queries, find us on Facebook, Instagram, LinkedIn, Twitter, or WhatsApp.
You can also reach us at hello@clix.capital.com or call us at +91-120-6465400.T&C Apply*.