What are the Requirements You Need to Qualify for a Small Business Loan?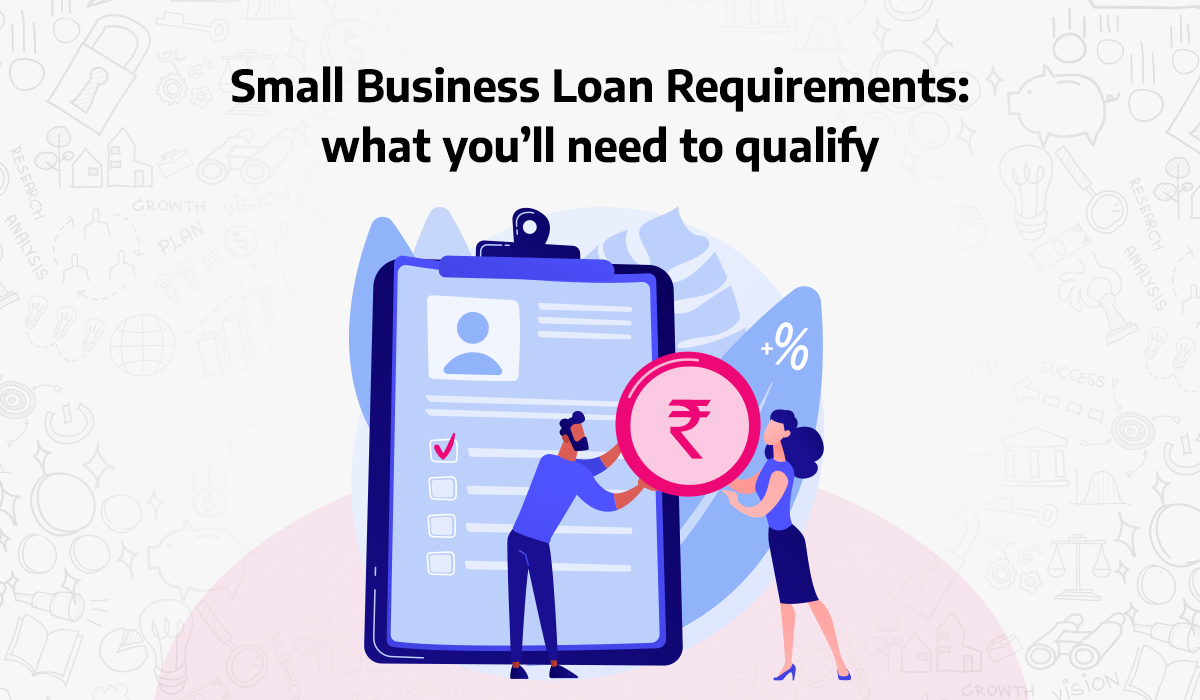 As an entrepreneur, you may sometimes find yourself in a position when you need a loan to maintain your cash flow and mitigate the financial crunch out of your business. Quick access to financing is what a business loan can provide, and it may help you maintain your business operations. You may apply for business loan and use the amount to revamp, expand, or grow your existing business, buy new machinery, increase working capital, hire new employees, purchase inventory, or invest in marketing.
Clix Capital offers business loans of upto ₹ 50 lakhs, which you can take as per your financial requirement and repayment capacity. If you are looking forward to applying for a business loan from Clix Capital, you must fulfill the following business loan requirements.
Business Loan Eligibility Conditions
To apply for a business loan from Clix Capital, you need to fulfil the following eligibility conditions:
You must be minimum 21 years of age at the time of loan application
You should not be more than 65 years of age at the time of loan term end
Your business must have a minimum turnover of ₹ 1 Crore
Your business must have at least 3 years of vintage in the current work area
The majority of your business should be routed via the banking system, reporting audited financial statement for the last 2 years, or capturing turnover in the previous year through GST returns
Besides these, check your credit score and ensure that it is minimum 700 or above and CMR up to 7 with stable income flow.
Business Loan Documentation Requirements
If you are eligible to apply for a business loan from Clix Capital, you need to share the following business loan documents to prove your eligibility:
Completed loan application form
Passport size photograph
Identity Proof, which may be your Aadhaar Card, PAN Card, or Government ID if you are a government employee
Address Proof, which can be your Aadhaar Card, passport, driving license, voter ID card, or utility bills for the last 2 months
Proof of Ownership
Financial Documents, which include the following:

PAN Card for a firm, company, or individual
GSTIN
6-months bank statement
Copy of the most recent Income Tax Return form
Computation of income, audited balance sheet, and profit & loss account for the last 2 years
Proof of continuity of the business of 3 years, which can be your sales tax certificate, establishment, ITR, or trade license
Other Requirements to Qualify for an SME Loan
To get a business loan, a small business owner must follow few requirements set by the lender. When you apply for a business loan, you need to supply a wide range of information about yourself and your business. Based on this information, the lender will be able to assess your creditworthiness and lending risk. The following are some crucial requirements that can save your credit and increase your chances of getting the required finance.
Research: Before applying for a business loan, you must research well and understand the different options available to compare lenders based on their loan amount, interest rates, eligibility conditions, documentation requirements, repayment tenure, and other conditions to ensure favourable terms and conditions approval.
Repayment Tenure: Once you have selected the best lender per your business loan requirements, you need to choose the suitable repayment tenure per your repayment capacity. A business loan EMI calculator can give you an idea of your EMIs so that you can select a loan term with the EMIs you can easily afford.
Budget: If you find a lender offering a good amount of loan with easy repayment conditions, it does not mean that you must go for it instantly. You need to assess your budget and repayment capacity before taking a business loan. Check your credit score and ensure that it is above 700 so that you can get the best of terms and conditions on your business loan.
Tips to Improve Your Business Loan Eligibility
Now that you know you are eligible to apply for business loan and know how much loan you must take and for how long, these are a few tips that can improve your business loan eligibility:
Check Your Credit Score: Do not apply for a loan if it does not meet the lender's minimum credit score requirement. Otherwise, you will only end up having a loan rejection that will further reduce your credit score.
Keep Documents Ready: Now that you know what business loan documents you need for application and approval, keep them ready to ease and accelerate the process so that you can have quick access to your loan amount.
Have a Repayment Plan: Even before you apply for a loan, you need to have a repayment plan in mind. Choose your repayment tenure wisely and be regular with your EMIs to ensure that your credit score does not reduce on the way.
So, if you are looking forward to applying for a business loan, take advantage of easy application and fast approval at Clix Capital. We offer business loans of upto ₹ 50 lakhs for 12 to 36 months. Apply now and let your business grow without facing any financial crunch.
For any queries, find us on Facebook, Instagram, LinkedIn, Twitter, or WhatsApp.
You can also reach us at hello@clix.capital.com or call us at +91-120-6465400.T&C Apply*.