Women in Business: How a Small Business Loan Can Help Women Entrepreneurs Succeed?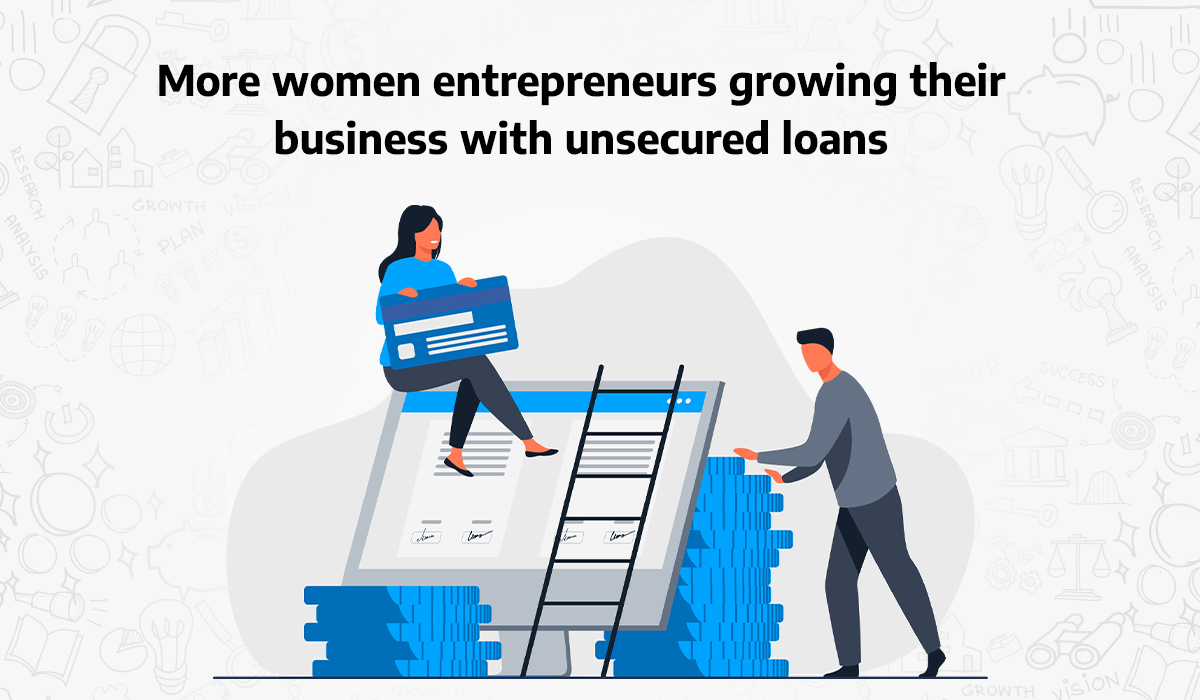 In India, more and more women are embracing entrepreneurship. Over the years, there has been a significant increase in the number of female entrepreneurs and business leaders in India, thanks to various government initiatives, increased access to funding, and a changing societal mindset that is more supportive of women in leadership positions.
Needless to mention, every entrepreneur needs funds to grow their business, and women are no exception. One of the most preferred funding options for women entrepreneurs is Business Loans. And where else is better than right here at Clix Capital when it comes to unsecured Business Loans? Coming back to the growth in the number of women entrepreneurs.
Let The Statistics Speak: Potential of Women Entrepreneurs in India
What better than speaking with some stats by the side? Women in India have a great potential to grow a business by themselves! Why are we saying this? Well, India saw the most female-led small businesses become unicorns in 2021.
(Source – https://www.financialexpress.com/industry/what-lies-ahead-for-women-entrepreneurs-in-india/2947445/)
Moreover, this humongous development highlights the potential and tenacity of Indian women. They are all set to dominate the workforce in India over the next few decades, helping to shape and improve the nation's future.
By 2030, it is predicted that 150–170 million job opportunities will be generated by over 30 million women-owned companies. This might transform everything and make the economy's future more promising than ever.
(source: https://www.financialexpress.com/industry/what-lies-ahead-for-women-entrepreneurs-in-india/2947445/)
Business Loans For Women Entrepreneurs: What's The Deal?
Business Loans are a great financial tool for women entrepreneurs. It is an unsecured type of financing designed specifically for business purposes. These loans can be used for various purposes, such as purchasing inventory, buying equipment, hiring employees, expanding presence, or covering operating expenses during slow periods.
The amount of loan, interest rate, business loan eligibility criteria, repayment schedule, and other terms are based on various factors, such as the creditworthiness of the business, the length of time it has been in operation, and its financial history.
Business Loans can provide numerous benefits to women entrepreneurs. Here are some of the key advantages:
1. Financial freedom
Business Loans can provide the necessary financial freedom as it ensures the required funds for women entrepreneurs to operate or grow their businesses. With this capital, they can purchase equipment, hire staff, invest in marketing, and more. This eventually leads to financial freedom and eliminates the chances for any dependence.
2. Improved cash flow
Business Loans can help women entrepreneurs manage their cash flow by providing them with the funds they need to cover expenses during periods of slow sales or unexpected costs.
3. Enhanced credit score
By taking out and repaying a Business Loan on time, women entrepreneurs can improve their credit scores. This can help them qualify for larger loans in the future and improve their chances of getting approved for other types of financing.
4. Increased credibility
Having a Business Loan can help women entrepreneurs establish credibility with vendors, suppliers, and customers. It shows they have the financial resources and stability to support their business operations.
5. Greater flexibility
Business Loans can offer flexibility in terms of repayment schedules, interest rates, and loan amounts. This allows women entrepreneurs to find a loan that best fits their unique needs and budget.
Also Read:- Beginner's Guide to Apply for a Quick Business Loan with Clix Capital
Invest In Your Business With Clix Capital's Business Loans
Clix Capital always supports women entrepreneurs and understands the importance of financial independence among women. That's why we offer Business Loans for Women at the most competitive interest rates in the market. Our Business Loans are designed to cater to the specific needs of different types of businesses.
Not only this, our loans are collateral-free, and we offer flexible repayment terms, making them a convenient financing option for businesses of all sizes.
Why Apply For A Business Loan From Clix Capital?
Let's give you the top reasons why you should apply for a Business Loan from us:
• One of the key benefits of taking a Business Loan from Clix Capital is that the loan application process is quick and hassle-free. Businesses can apply for a loan online by filling out a simple application form, and the loan is approved quickly after a brief in-person verification of documents.
• Another benefit of our Business Loans is that they are collateral-free, so the business owner does not need to provide any collateral security.
• Most importantly, we don't want you to compromise on the loan amount, so we offer large loan amounts of up to Rs 50 lakhs.
• Our Business Loans don't come with end-use restrictions, so they can be used for various purposes, including business expansion, purchasing new equipment, hiring additional staff, or consolidating existing debts.
How To Apply For A Business Loan From Clix Capital?
To apply for a Business Loan from Clix Capital, just follow these steps:
1. Fill out the application form
Visit our website and fill out the application form for the loan. The application form will require you to provide basic information, including your name, address, pin code and loan amount.
2. Talk to our representative
After submitting the application form, wait for our representative to call you back. The representative will call you to get some basic information about your loan requirements. This will help us to understand your business and its loan requirements better.
3. In-person verification
After the phone call, one of our representatives will meet you to evaluate your loan application. If your documentation is in order, you will qualify for the Business Loan and get the loan offer, including the loan terms, interest rate, and repayment schedule.
5. Instant disbursal
Once you accept the loan offer, the loan amount will be disbursed to your account instantly. Now you can use the loan amount to grow your business and achieve your goals.
Investing in your business is crucial for its growth and development. Clix Capital's Business Loans for women can provide the necessary financial support to achieve your goals. With flexible repayment terms, competitive interest rates, and no collateral requirement, for businesses of all sizes.
Also Read:- Important Documents Required Before Applying for Your Business Loan in 2023