Top 5 Landmark Events of the Retail Lending Industry in 2022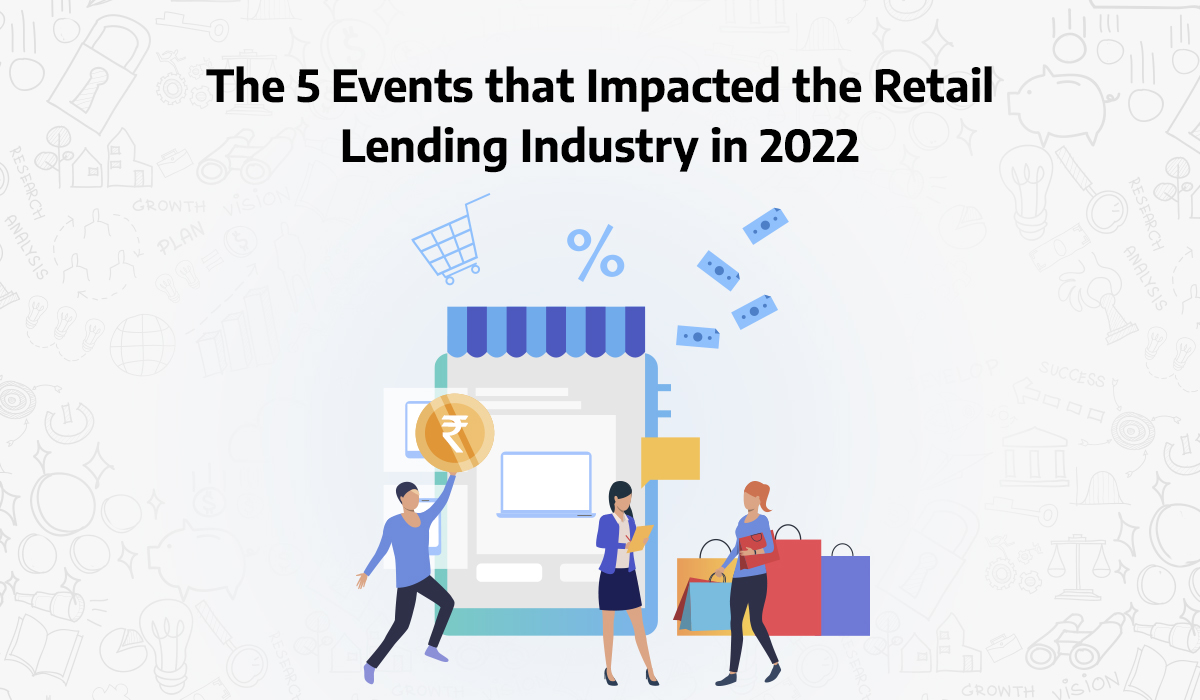 It has been nearly three years since the pandemic hit us, damn! The years 2020 and 2021 were a blur for many but somewhere down in 2022, individuals, businesses and economies were able to see some glimmers of recovery and positivity. This was a good year – terms like 'revenge travel' became something of a cultural phenomena, and 'quarantine' a thing of the past.In this blog, we'll take a look at the retail lending industry and what 2022 meant for it. Simply put, in terms of growth, the retail lending sector did phenomenally well, growing by 11.1% as compared to 2021. Despite the second wave that hit India in early 2022, it is amazing to see that the retail lending sector touched a total value of Rs 174.3 lakh crore. (Source: Outlook India)
So, what were these major events behind this resurgence?
The top 5 landmark events in 2022
Diving deeper into the growth story above, let's see 5 major events that unfolded in favour of the retail lending industry, while also contributing to the overall growth of the Indian economy.
1. Retail loans saw a surge in value and volume
Personal Loans have seen a drastic increase in their value, for urban or semi-urban borrowers.
These grew by approximately 46 percent in value and 122 percent by volume in FY 2021-22.
There was a dip of 33 percent in the average ticket size of Personal Loans from Rs. 1.25 Lakh in FY 2021 to Rs. 83,000 in FY 2022. (Source: Outlook India)
Coming to the other section of retail loans like two-wheeler loans, auto loans, business loans and home loans, these segments saw a great boost in value and volume as well.
2. Shift towards automation
Earlier, more than 50 percent of all lending tasks were performed manually and took up a lot of time. The lending industry has embraced the shift towards automation in 2022, adopting technologies like Artificial Intelligence (AI), and Machine Learning (ML) to make routine tasks easier and faster than ever. Lending has now become more scalable and flexible with most of the processes automated. (Source: Finextra)
Now, customers can instantly check for EMIs, and interest rates using online calculators.
They can also apply for loans online and get hassle-free approvals with the right documentation and eligibility.
Credit analysis has become an effortless task where users can check their credit scores well before they apply for loans.
3. Digitisation in retail lending
Digitisation has become the new normal for lenders and borrowers in 2022 and the lending industry was quick on the take, positively embracing digital developments in everyday tasks. New KYC procedures made possible by E2E video-KYC and contactless processing enabled the industry to create a completely digital lending infrastructure: terrific for borrowers on the move, and those who don't like to move as well.
With innovative tools like the Personal Loan EMI calculators, it has become easier to estimate the EMI based on amount, tenure and Personal Loan interest rate: in seconds. With digitisation, several loans are now accessible in next to no time and can be applied for through the official websites of leading financial institutions like Clix Capital.
Adoption of hybrid cloud technology has also been a key factor in the digitisation of the digital lending industry. Everything right from enhancing accessibility to financial tools, streamlining workflows, and boosting security has secured and enhanced lending in 2022.
The retail loan application processes became easier not just because of complete online processes but also because of minimum documentation, and relaxed eligibility.
Also Read: Top 5 Things That Influence Your Personal Loan Limit
4. NBFCs emerged as the backbone of the lending sector
NBFCs trended hard this year and became a preferred financing option for countless borrowers! They have also become something of a backbone to the lending industry. The main goal of NBFCs has always been to actively support financial inclusion and offer financial support to borrowers through secured and unsecured loans. Now, more people have access to financial assistance thanks to the accessible options offered by NBFCs, which accounted for over 50 percent of all loans disbursed in 2022. (Source: Statista)
Due to their hassle-free documentation and easy loan application process, a large portion of the borrowing population chose NBFCs over other financial institutions. NBFCs like Clix Capital have emerged as the ideal destination for more and more people looking for quick and secure access to financial services. They have tremendous potential, and may come to surpass conventional lending institutions as prime loan facilitators in the next year.
5. Rise in the number of credit cards users
Credit cards were a major highlight in 2022. With a whopping 48 percent growth in new credit card users, lending institutions witnessed a surge from FY 2021 to FY 2022. Overall, 28 percent more new cards were issued in Q4 FY 22 than in Q4 FY 2021. (Source: Outlook India)
Impact of these landmark events
Due to these landmark developments in the lending industry this year, more lending institutions are adopting fresh business approaches and technologies to actually address the actual needs of people who are looking for some financial assistance. They are changing conventional lending outlooks and evolving the industry into being more flexible and welcoming. More and more lending institutions are now enabling themselves to function effectively and efficiently because of the quick adoption of digital solutions and automation.
Bottom line
With financial innovation taking centre stage and providing options for people to invest, save, and increase their wealth, the Indian lending sector surely moved into top gear in 2022. The sector is laden with many great initiatives that will further streamline the financial system, and make the process of applying for secured and unsecured loans easier.