Loan for Warehouse: Interest Rates, Eligibility Criteria, and Benefits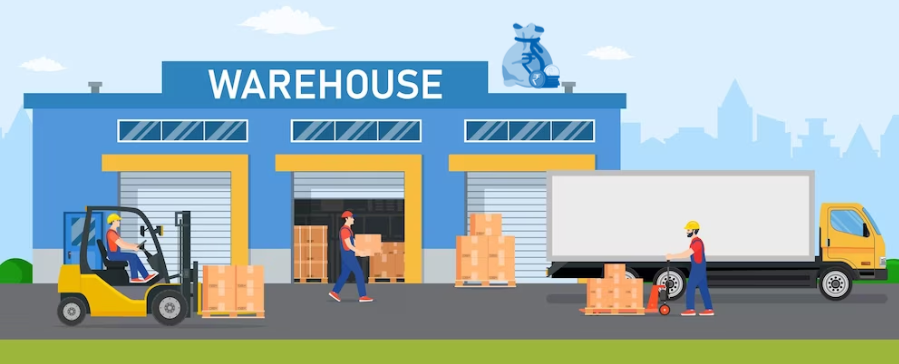 India is a vast country with diverse forms of agriculture in different terrains and climatic conditions. That is why it is one of the largest producers of several agricultural products and crops worldwide. Producers transport crops nationwide throughout the year and export them outside the country as well. Finding ways to store them adequately until they reach the end consumer is a major challenge the agricultural sector faces. That is when a Business Loan for warehouse from Clix Capital comes into play.
In this blog, you will learn more about such loans, their interest rates, eligibility criteria, benefits, and other aspects.
The Increasing Need for Warehouse Finance in India
The abundant agricultural produce in India requires optimum-quality storage solutions. Producers frequently need easily accessible warehouses that provide proper protection against rodents, natural calamities, and other elements. The Indian government established the Warehouse Development and Regulatory Authority of India in 2010 to encourage scientific goods warehousing, promote efficient supply chains, improve liquidity in the rural sector, reward quality and grading, etc.
It aids in setting up cold storage facilities and warehouses to assist producers. Considering their high demand, you might find several financial institutions offering numerous Business Loan products to assist in establishing a warehouse.
Subsidy Schemes for Cold Storage and Warehouse Infrastructure
Indian producers involved in crop production and associated activities constantly face the challenge of their product's efficient storage. Every year, they incur a financial loss of lakhs due to inferior or insufficient storage solutions. Hence, quality warehousing is a necessity throughout the country. Moreover, the Indian government has launched numerous schemes to aid the setting up of warehouses to benefit agriculturists.
As a producer, you must act prudently and utilise these schemes to get a Business Loan at cheaper rates and set up a warehousing facility to establish a profitable business enterprise. Some of these schemes include the following:
• Gramin Bhandaran Yojana or the Warehouse Construction Subsidy Scheme
• Private Warehousing Scheme by FCI
• Cold Storage Subsidy Scheme
• Agri Marketing Infrastructure (AMI) Scheme
• Central Sector Scheme for construction of godowns
• Capital Investment Subsidy for Construction/Renovation of Rural Godowns
Costs Covered Under a Loan for Warehouse
You can apply for Business Loan on our website to create an efficient storage infrastructure for the safe storage of farm produce. The storage infrastructure includes warehouses, silos, cold storage, temperature-controlled stores, and cold chain infrastructure activities like reefer vans, pack houses, bulk coolers, quick-frozen units, chilling infrastructure, etc. You can also use our Business Loans to modernise or improve your existing storage infrastructure, increase its storage capacity, or utilise the latest technology to keep the product safe and fresh.
The primary objective of a warehouse loan is to realise maximum benefit from the farm products while preventing distress sales due to spoilage and other elements.
Loan for Warehouse: Features and Benefits
Any individual, farmer, or business entity can use our Business Loan for warehouse to set up a storage facility and store their products. Here are a few features and benefits you must know about these loans:
Easy Accessibility: Availing capital for warehousing is a major challenge for Indian business owners. However, a Business Loan from Clix Capital is easy to obtain with a hassle-free application process. Apply on our website and get quick approval after a brief in-person verification. Overall, these loans come in handy when you need urgent funds for safe storage.
Reasonable Interest Rates: Every rupee saved is a rupee earned. You would not want to spend a fortune paying excessive amounts on loan for storage. A loan for warehouse comes with reasonable interest rates, making it a more popular financing product than others.
No Collateral Requirement: A Business Loan from Clix Capital you borrow for warehousing purposes is unsecured. That means you don't need to pledge any security or collateral to obtain the required funding. It helps your small business by boosting its productivity and preventing spoilage without putting any asset at risk.
Usage Flexibility: Warehouse owners often borrow our Business Loans for their short-term storage needs. Our loans are flexible with no end-use restrictions. Whether you want to set up a warehousing facility, increase its size, upgrade its technology, hire more staff, or improve equipment, manage the expense with our Business Loan effectively.
Customised Repayment Terms: Our unsecured SME loans have customised repayment terms that you may choose according to your repayment capacity. Our Business Loans have a repayment period of 12 to 36 months. Use the Business Loan EMI calculator on our website to find EMI amounts for different loan terms, and select one with budget-friendly EMIs.
Who is Eligible for a Business Loan for Warehouse?
The eligibility criteria for Business Loans include:
• Minimum and maximum age requirements of 21 and 65 years, respectively
• The business should be a proprietorship, closely held non-listed company, private limited company, or partnership firm in the trading, services, or manufacturing sector.
• A minimum turnover of ₹ 1 Crore
• Reporting audited financial statements for two years
• The majority of business routed through a banking system
• Capturing the turnover in the past year through GST returns
• A business vintage of at least three years
Also Read: What Are The Factors Affecting Your Business Loan Eligibility?
If you fulfil these eligibility conditions, you can apply for Business Loan on our website. To support your application, you should have documents, including identity proof, residence proof, financial records, and proof of ownership.
How are Interest Rates Determined?
Interest rate is a major contributor towards the total loan cost. So it's crucial to understand how we determine Business Loan interest rates. The factors that affect the interest rates of our Business Loans include your business nature, credit score, annual turnover, current financial obligations, repayment tenure you choose, the loan amount you request, etc. Keep all these factors in optimum conditions to get the best loan deal at the lower interest rates.
We are a leading financial services provider offering unsecured Business Loans with no end-use restrictions. You can borrow loans for warehousing at attractive interest rates and tailor your repayment according to your financial needs and capacity.
So what are you waiting for? Apply for our unsecured Business Loans online and get the necessary funds in no time.