How To Expand School Infrastructure With K-12 Loans In India 2023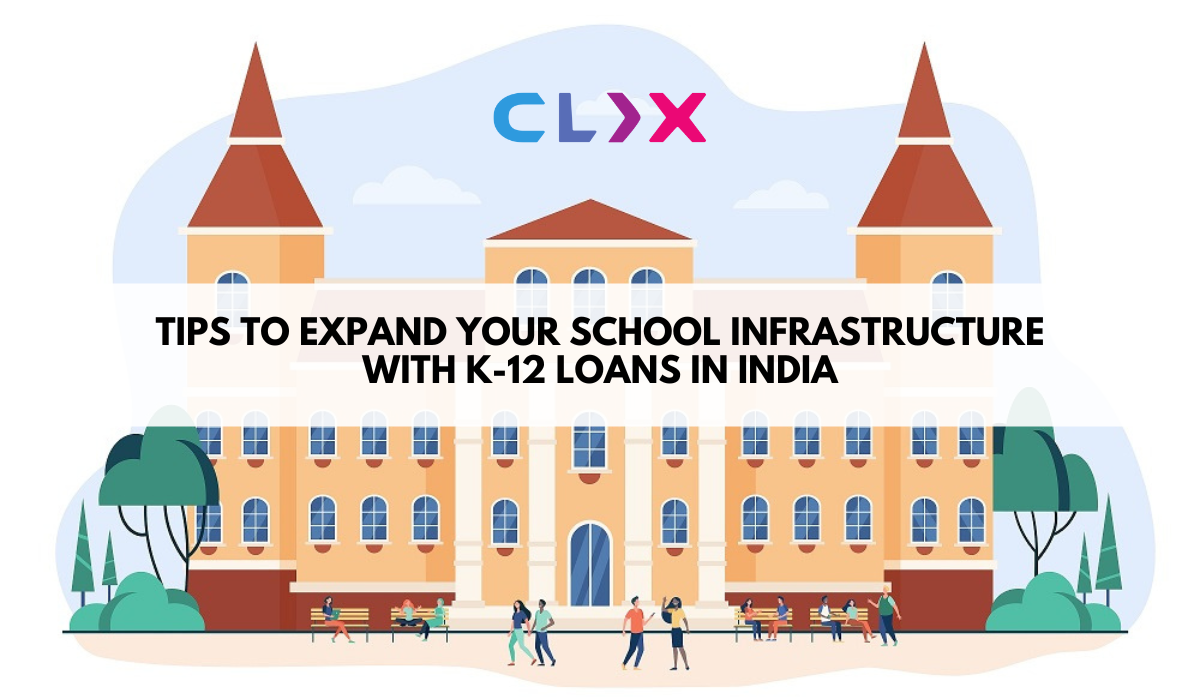 Are you running a school and looking to expand its infrastructure in order to service students with the latest technologies and larger facilities? If so, you need not worry about the financial constraints as school expansion loans can be your saviour. In this article, we will take you through the benefits of school expansion loans in India.
The Need for School Expansion Loan in India
The current Indian government is on a mission to make education accessible to all citizens by 2030. To achieve this goal, the government has increased the budget allocation for education by 6 percent this year, in addition to various initiatives to promote education – such as the school expansion loan or K-12 loan. This presents an opportunity for education entrepreneurs to expand their schools without much financial pressure.
Benefits of K-12/ School Financing Loans
1). Plenty of Loan Amount – School financing loan is available ranging from 50 lacs to 7.5 Cr to meet your wide array of needs which can be upgrading the style of education to a modern one, adding more laboratories, expanding infrastrure by adding more classes, hiring new staff and more. These loans assist school owners in implementing their plans without any financial setbacks.
2). Flexibility Of Collateral – we understand that flexibility is key when it comes to choosing a loan. At Clix Capital, we offer the options to select from Secured and Unsecured school financing loans. Either way, we've got you covered!
3). Longer Repayment Tenure- we offer convenient repayment options that are tailored to suit your needs. Our loan tenures are up to 10 years for secured loans & 5 years for unsecured loans, which means that you have ample time to pay off your loan amount without feeling the pinch.
4). Less Documentation – When it comes to school financing loan, the last thing you want is a lot of confusing documentation getting in the way of your dreams. That's why we pride ourselves on minimal documentation. We know that you have better things to do than sift through piles of paperwork, so we help you get everything done with ease. With minimal documentation, we'll help you get there faster than ever before.
Eligibility Criteria To Qualify For School Financing Loan in India
Are you planning to expand your school, but need financial assistance? School expansion loans from Clix Capital can provide you with the necessary funds to turn your dreams into a reality, but to be eligible, there are some criteria you need to meet.
Age – Age is an important criterion, as most loan schemes require you to be above 21 for secured loans (25 years old for unsecured loans) and under 65 at the end of its tenure.
Business vintage – is another essential factor; it's required a business to be in operation for at least 5 years before.
Audited Reports – are needed to showcase the financial health of the business. Take it one step further and submit your reported audited financials for the last 2 years.
Make sure all three of these boxes are ticked as you start your loan application process.
K-12 loan/ School Financing loan have proven to be a crucial shot in the arm for businesses in the education sector in India, improving the quality of education and increasing profitability. With tax benefits, affordable interest rates, and a supportive government, businesses can expand their schools and meet the increasing needs of the education sector. It is vital to choose a trusted lender like Clix Capital and use the fund appropriately to achieve the desired results, which will garner success for the business in the long run.
For any queries, find us on Facebook, Instagram, LinkedIn, Twitter, or WhatsApp. You can also reach us at hello@clix.capital.com or call us at +91-120-6465400.T&C Apply*.