How Indian MSMEs have Transformed this Diwali Using Business Loans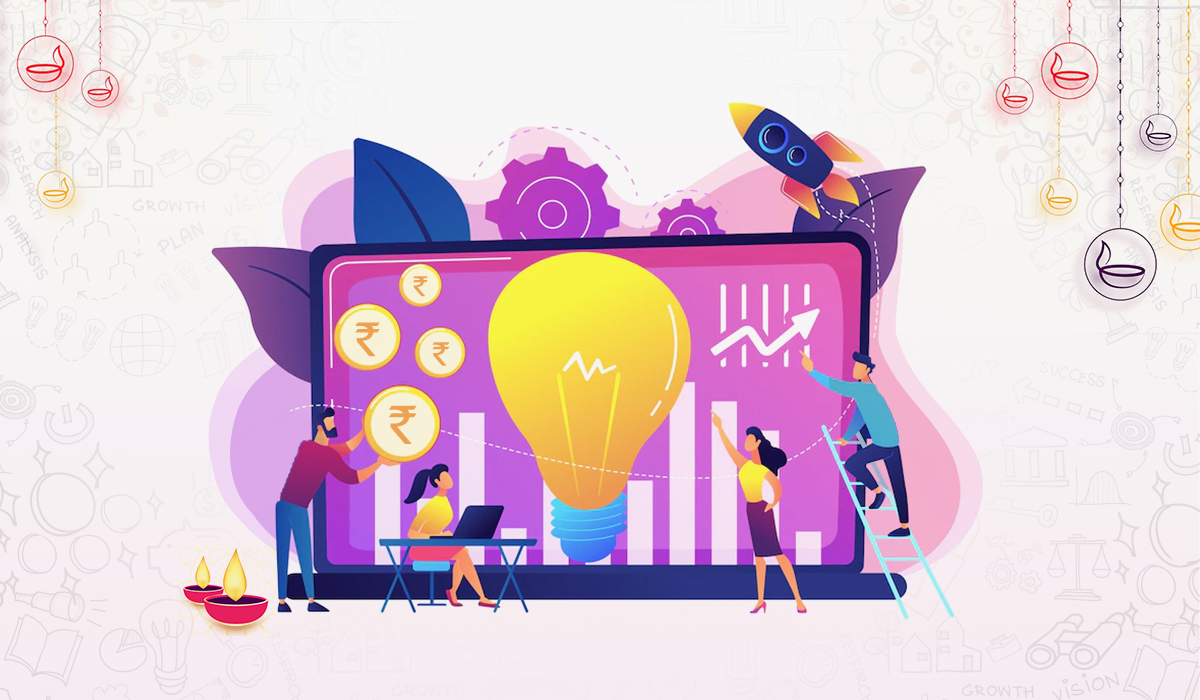 The Diwali season is the perfect time for entrepreneurs looking to grow their businesses in the market. The period attracts the highest sales figures for most companies and spikes revenue. The rise is particularly beneficial to medium-sized businesses because they can quickly profit from the market's growing demand and earn income from the sales. When looking to spear ahead in the upcoming Diwali season, you can avail of unsecured business loans at competitive interest rates to get your business ready to amuse your customers.
SMEs and MSMEs have seen a significant boost in recent times, showing promising growth in economic significance and popularity. Business owners are implementing new strategies to stay ahead of the competition and keep up with the increasing consumer demand during the festive season. Since they would require fundamental capital to cover the costs, many consider taking an unsecured business loan to satisfy the spike in demand. Business Loans are beneficial for several reasons and can help you to expand your business.
Why Diwali is the right time to take a Business Loan?
Diwali attracts a spurt in product demands, sending the sale and purchase of items to a year high. Due to the demand boost, businesses try their best to amplify their production, which eventually requires additional capital to gear up equipment, upgrade machinery or increase stock. An unsecured Business Loan provides monetary support when the demand increases, rescuing your business from draining its savings and assets.
Benefits of taking a Business Loan during the Diwali season
Taking a Business Loan during the festive season is highly beneficial for medium-sized business owners. Let's take a look at how:
One obvious perk of taking a Business Loan is that it allows a business to optimise sales during Diwali. It gives a financial umbrella, allowing the company to expand operations without hassles.
It allows the SME owners to build up assets by acquiring more machinery and equipment, helping handle the boost in sales around Diwali.
Unsecured business loans are collateral-free. They prevent you from the stress of risking a personal or business asset for loan processing.
These loans come in handy to fulfil short-term business goals during the festive times, thanks to their flexible repayment plans and quick disbursal.
The SME Business Loan procedure is short and simple, requiring minimal documentation and an easy application process. So, while the demand is high and days are busy, SME owners can apply and get the funds quickly from Clix Capital.
Ways to amp up the business during the festival
Applying for an easy business loan is the most convenient way to fund business growth. Here are a few ways to use an SME loan to enhance business performance this Diwali.
Layout and Action Plan: A business that wants to boost its operations around Diwali must remember the duration and dates of the festive season. Accordingly, they can strategize their preparations and implement them in time.
Offer Festive Discounts and Announce Sales: Festive sales and discounts are the major attraction for people on Diwali. If customers want to make a big-ticket purchase, they prefer waiting for Diwali sales to get lucrative product deals. Hence, offering festive sales and discounts attracts more customers to the business.
Invest in Marketing: Popularising the business through a robust marketing plan during Diwali helps attract more clients. Assign a separate marketing budget for the purpose and start marketing before the festive season starts. Identify the target customers and advertise on social media and other places to boost sales significantly. Fund the marketing campaign with unsecured business loans and receive returns with maximum sales.
Enhance the Presentation: Today, most people judge businesses by their presentations. Remember, the presentation reflects the business's personality and nature. Customers feel easily attracted to businesses with attractive or relatable appearances and impressions. Thus, add some festive touch to the business during the festive season, making the store appear more inviting.
Things to consider before taking a Business Loan during Diwali
SME owners who have made up their minds to take a business loan this Diwali must consider these:
Plan out the purpose of taking the loan. It may vary as per the business strategy and plan. Considering the business's end goals helps create the budget and determine the loan amount.
SME's operational efficiency, reputation and repayment capabilities are of paramount importance for a successful loan application. That is why the business owner must maintain high credit and CMR scores to get fast approval.
A common mistake that most SME owners make is applying for a loan without optimum documents. Inefficient documentation often results in loan rejection, wasting time and harming the credit score. Therefore, prospective loan applicants must check our documentation requirements and submit them carefully.
The method for SME loan application
Go to our Business Loan page
Share your phone number in the box
Click on Apply Now
A pop up will appear. Enter the name, email, pin code and amount required
Submit details along with the OTP received on the phone number you shared
Get a call from our representative to take the process forward
Get fast approval followed by quick disbursal
Expanding a business involves a lot of resources, time, people, and money. If a business owner needs additional capital to handle the demand surge on Diwali, money should not impede their ambition. For SME owners, availing of unsecured business loans would be the best decision to manage and expand their operations.