Micro Loan Against Property (MLAP)
Loan against property helps you unlock the hidden equity in your property holdings. You can get a loan against property for expanding capacity, meeting capital requirements, financing a wedding, financing child's education, meeting the unplanned and unforeseen healthcare needs, debt consolidation and much more. You can borrow money using property as a collateral and repay in EMIs over time. So, why overthink, when Clix has got your back? Clix offers customized property loans to Salaried/Self-employed Professionals, Sole Proprietorship firms, Micro & Small Enterprises, LLP & Pvt Ltd Companies.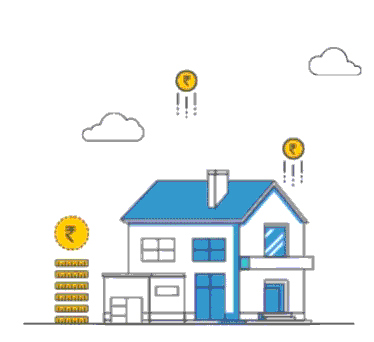 Elements that make our LAP unique!
Hassle Free documentation and disbursal
Simple Loan against property eligibility criteria, minimal documentation and doorstep service makes the loan processing faster and easier.

Subtle yet
effective
The rate of interest is lower than personal loans making it one of the cheapest and pocket-friendly loans coming second only to home loans

High Value loans,
now affordable
Clix offers you up to Rs. 1 crore Loan against property on residential (self-occupied/ rented) &/or commercial property (self-occupied only)

Easy Balance
Transfer Feature
Transfer your existing loan against property with Clix with quick processing and get a high value top-up loan
Am I Eligible for a Loan Against Property?
Are you:-
-Above 22 years of age while applying for the loan and below 65,(60 years for salaried) years of age at the end of the tenure
-Salaried or Self- employed
-Part of the house which has an annual income that's greater than 3 lakhs.
If the answer to all those are "YES", then guess what—YOU'RE ELIGIBLE!!
Here's what Clix cater your needs…
-Loans upto 1 Crore
-Tenure upto 15 years
-Floating Interest Rates
-Easy monthly repayments as EMI Installments
-Simplified Documentation
Here's How Clix Capital Caters to Your Needs
-Loans up to 1 Crore
We offer loan amount up to ₹ 1 crore to meet your financial needs.
-Tenure up to 15 years
You get time of up to 15 years to repay your micro loan against property.
-Floating Interest Rates
Floating interest rates may give you the benefit of reduced EMIs, in case the market rate dips in the near future.
-Easy monthly repayments as EMI Instalments
Take a loan of up to ₹ 1 crore and pay it back in upto 15 years in easy monthly instalments.
Simplified Documentation
We have simple documentation requirements with minimal paperwork
-Loan Disbursal to Everyone
Whether you are a salaried or self-employed individual, sole proprietorship firm, LLP & Pvt. Ltd. company, or a small or micro enterprise, you are eligible to apply for our micro loan against property, provided that you meet our eligibility conditions.
What Documents Do I need to provide?
We believe in saving trees and your lessening your efforts for which we only take just the below mentioned documents
Completed Application Form
We will provide you with the run-of-the-mill-application form to detail out all the information that we require to disburse your loan
This photo should be fairly recent and indicative of your current physical appearance
This can be Aadhaar Card/ Pan Card/ Government ID (If you happen to be a government employee)
Your Aadhaar Card is the go- to- document here. In case your current address is not updated in Aadhaar Card, one certified copy of any Official Valid Document (OVD) is required. These OVD's are either your Passport, Voter ID or Driving License. Your utility bills from last 2 months may also apply here
A salary slip for the past 3 months. A copy of the latest Form 16. Updated bank statements showing salary and saving entries for the 6 months
For Self- Employed Individuals
Business profile- A note of information on the nature of the business/ profession, form of organization, clients, suppliers etc. Last 6 months main operative bank statement. Last 2 years Income Tax Returns and financials, including balance sheets and profit and loss accounts of the business/ profession
*Please note that while only scans or photocopies of your documents are required while applying for a loan, you might want to carry original documents in case of verification. Approving the loan application is at the sole discretion of Clix; we might ask for further documents for a more thorough assessment of your loan
How Do I Apply For a Loan?

Fill our application form. It only takes 3 minutes to do so!

Our customer representative will talk to you for a quick chat

Congratulation! You're on your way to secure a loan against property
FAQs
What is the minimum loan amount I can avail?
At Clix, you can apply for a housing loan that ranges from 10 lakhs to 1 Crore
What will be the tenure, interest rate and EMI of loan against property?
At clix, we provide loans for the tenure of 15 years – however, this figure is dependent on the age and income of the borrower. Meanwhile, the standard interest rate on these loans is around 17% and also can choose from customized repayment (EMI) and down payment options
What Security/ collateral I need to provide?
Generally speaking, the security that you need to provide for the loan is the first and exclusive charge of the property to be financed. In this situation, the deposit of title deeds and/or other such collateral security is to be done as deemed necessary. The title to the property should be clear, marketable and free from any encumbrances. The property should also be within geographical limits of the cities where Clix has a branch office
How do I avail a Loan against property at Clix?
There's a space at the top and bottom of this page to put in your phone number. Just provide the same and our customer representative will speak with you shortly to get a home loan online!
What is the concept of EMI?
You repay a loan in Equated Monthly Installments (EMIs) – an amount that combines your principal and interest. Your EMIs begin the month after your full loan amount is disbursed
What is the pre-EMI?
The pre-EMI is the interest you paid on the loan amount you receive before your EMI period begins. This usually happens in either self-construction or construction stage-linked/partly-disbursed cases
What is an amortization schedule?
An amortization schedule has details on how you can repay your loan, as well as the division between principal and interest charged in each EMI
How can I reach out to Clix for any other information on my Loan against property?
Just call us on between 9:30am-6:30pm from Monday to Saturday (barring public holidays). Alternatively, you can also write to us at hello@clix.capital to resolve your queries
What if I have any other query when it comes to these loans?
It's possible that some questions you might have aren't answered in this FAQ. However, don't worry – Clix has a Most Important Terms & Conditions (MITC) that you can read through to get all the clarity you would need on our loan structure. Please keep in mind that certain factors might vary based on the type of loan and our customer representative will clarify the same if need be
Click here and get ready for success
Apply now for simple, fast, and accessible loans for business from Clix.